I've just deployed two security enhancements to the LVFS. It's important to note that is is proactive in response to suggestions from OEMs, and there has not been any security issue with the service.
All passwords will be upgraded to a modern PBKDF2, in our case using SHA256. By logging in to the LVFS your password is automatically upgraded and no manual action is required. Any user accounts that have not been used by this time next year will be sent an email to remind them.
Local users can now optionally secure their accounts using two factor authentication, in our case using OTP. Users can opt-in to 2FA in the usual "Profile" menu once logged in to the LVFS. In the profile section you can also test your OTP PIN before enabling it for your account. Two factor authentication is considered a very good way of securing your user account and is a very good idea for administrator, manager and QA user access levels. Although 2FA isn't required for all account types at the moment, in the future we might tighten the security policy a little bit when we know it's all working for everybody.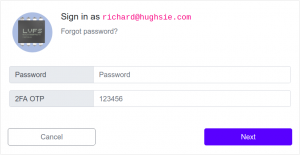 As a consequence of these changes, the login dialog for the LVFS now looks a little different. All the same buttons are there (forgot password etc) but now the login process is a 2-step process rather than a single process. For vendors using OAuth, nothing much changes, and if required 2FA should be enabled by your domain administrator rather than enabled on the LVFS. If anyone has any problems, please let me know.