A few weeks ago Sean from Star Labs asked me to start the process of joining the LVFS. Star Labs is a smaller Linux-friendly OEM based just outside London not far from where I grew up. We identified three types of firmware we could update, the system firmware, the EC firmware and the SSD firmware. The first should soon be possible with the recent pledge of capsule support from AMI, and we've got a binary for testing now. The EC firmware will need further work, although now I can get the IT8987 into (and out of) programming mode. The SSD firmware needed a fix to fwupd (to work around a controller quirk), but with the soon-to-be released fwupd it can already be updated: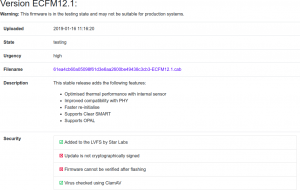 Sean also shipped me some loaner hardware that could be recovered using manufacturing tools if I broke it, which makes testing the ITE EC flashing possible. The IT89 chip is subtly different to the IT87 chip in other hardware like the Clevo reference designs, but this actually makes it easier to support as there are fewer legacy modes. This will be a blog post all of it's own.
In playing with hardware intermittently for a few weeks, I've got a pretty good feel for the "Lap Top" and "Star Lite" models. There is a lot to like, the aluminium cases feel both solid and tactile (like an XPS 13) and it feels really "premium" unlike the Clevo reference hardware. Star Labs doesn't use the Clevo platform any more, which allows it to take some other bolder system design choices. Some things I love: the LED IPS screen, USB-C charging, the trackpad and keyboard. The custom keyboard design is actually a delight to use; I actually prefer it to my Lenovo P50 and XPS 13 for key-placement and key-travel. The touchpad seems responsive, and the virtual buttons work well unlike some of the other touchpads from other Linux-friendly OEMs. The battery life seems superb, although I've not really done enough discharge→charge→discharge cycles to be able to measure it properly. The front-facing camera is at the top of the bezel where it belongs, which is something the XPS 13 has only just fixed in the latest models. Nobody needs to see up my nose.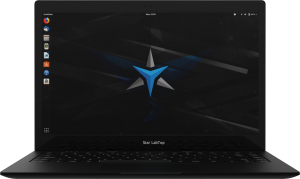 There are a few things that could be improved with the hardware in my humble opinion: The shiny bezel around the touchpad is somewhat distracting on an otherwise beautifully matte chassis. There is also only a microSD slot, when all my camera cards are full sized. The RAM is soldered in, and so can't be upgraded in the future, and the case screws are not "captive" like the new Lenovos. It also doesn't seem to have a ThunderBolt interface which might matter if you want to use this thing docked with a bazillion things plugged in. Some of these are probably cost choices, the Lap Top is significantly cheaper than the XPS 13 developer edition I keep comparing it against in my head.
I was also curious to try the vendor-supplied customized Ubuntu install which was supplied with it. It just worked, in every way, and for those installing other operating systems like Fedora or Arch all the different distros have been pre-tested with extra notes – a really nice touch. This is where Star Labs really shine, these guys really care about Linux and it shows. I've been impressed with the Lab Top and I'll be sad to return it when all the hardware is supported by fwupd and firmware releases are available on the LVFS.
So, if you're using Star Drive hardware already then upgrade fwupd to the latest development version, enable the LVFS testing remote using fwupdmgr enable-remote lvfs-testing and tell us how the process goes. For technical reasons you need to power down the machine and power it back up rather than just doing a "warm" reboot. In a few weeks we'll do a proper fwupd release and push the firmware to stable.