Thank you to everyone who spoke up in the last few days in support of the Outreach Program for Women. The reason we need to have this program is that there are many challenges women encounter on their path to technology, and by working to address this disadvantage, we not only do the right thing and help women access the rewards of participating in free software, we also get awesome contributors whom we would otherwise have missed. Girls and women are systematically discouraged from exploring technology and from participating in the more hobbyist areas of technology, which are especially male dominated. They don't typically have the kind of social support or encouragement men do to contribute to free software. By the time they work on their computer science degrees, they often feel behind their male peers in their experience, underestimate their abilities, and are less likely to apply for prestigious programs like Google Summer of Code.
Women often encounter sexist behavior when participating in the free software community. Recent examples from OPW interns include men being surprised about one of them attending a conference and commenting about the appearance of another in a professional context. Here is a quote from the first intern at a recent IRC meeting for interns: "I attended FOSDEM and a couple of guys came to tell me they were surprised to see a girl there… You feel like you're not supposed to be there, like you're doing something wrong… So it was nice to have this space here, and feel like I was in the right place." When an organization posted an article on Facebook about another intern's impressive work, among many congratulatory messages there were comments about the developer's appearance. In addition to people speaking up about the inappropriateness of such behavior, support groups for women joining our community can help address the immediate negative feelings after such incidents.
The brilliance and drive of the women we accept for OPW have always left me in awe. To think that, judging by the historical data, they would not have been likely to get involved otherwise and we would not have had their contributions is sad. The program has had 170 interns so far, with 40 of them participating in the current round with 16 free software organizations. We had 122 applicants for this round who worked with a mentor and completed the required contribution. Because of the many outreach efforts, including OPW, the percent of women among GSoC participants increased from 7.1% in 2011 to 9.8% in 2014. OPW encourages women who are students and coders to apply for GSoC as well, and of the ones who applied for both programs at the same time, 26 were accepted to participate in GSoC. An additional 11 OPW participants went on to participate in GSoC in a later round. 13 found employment with sponsoring organizations. 15 gave full session talks at conferences. This is a sizable change, but we are in the beginning of a long road.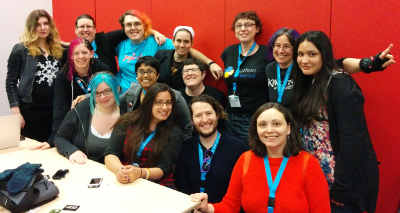 There was only one girl among 40 teenage Google Code-in grand prize winners in the last two years. About 10% of the participants were girls. While OPW is effective in involving college and post-college women in free software, we are set to run the program forever, unless we also start involving high school girls in free software. For the next Google Code-in, I'd like to engage our network of OPW alums, mentors, and supporters in mentoring high school girls in Google Code-in participation. I'd like to invite people to step up to start and lead this effort. The first step would be to form a local group of people to teach workshops similar to OpenHatch's "Open Source Comes to Campus" at local programming for girls groups, programming camps, or high school CS classes. You would then need to report on your experience and set up the resources for people to replicate it in their locations. The next step after the workshops would be to organize meetups at local libraries for mentoring in ongoing free software contributions and Google Code-in participation. This will be the Outreach Program for Girls.
There are many other groups of people underrepresented in free software – people from the Middle East, Africa, and East Asia; people of color in North America and Europe; people from disadvantaged social-economic backgrounds, people with disabilities. Empowerment and access are the main tenets of free software, and we need to do so much more to involve all these people. As Karen Sandler recently said to me, the current program is incomplete. Once we have a solid financial situation for OPW, we'd like to evolve it into OP-UP – the Outreach Program for Underrepresented People. Lukas Blakk is starting the Ascend Project for Mozilla, which will offer a 6 week course in contributing to free software, complete with financial support, to people from disadvantaged backgrounds. The first course will end in October, and I hope we can open the next round of OPW to graduates of this course as a pilot for OP-UP.
Being the community which fostered OPW and brought many free software organizations together to involve more of humanity in developing free software is earning the GNOME Foundation a lot of credit. It helps more people find out about GNOME and learn about the amazing product and community we have to offer. People notice how polished GNOME is. We went from 985 people contributing for the 3.10 release to 1,140 people contributing for 3.12! We shouldn't forget how much we have achieved, when we consider what our software is missing or who our community is missing, and continue on to make things better.