I recently became an advisor for the Ada Initiative and I have been a proud donor since it was founded by Valerie Aurora and Mary Gardiner two and a half years ago to enable full-time work to promote participation of women in open technology and culture. As someone who is also working on increasing participation of women in Free Software, I know it's an area we can make dramatic progress in in a few years, but it takes a focused and full-time effort to make this change.
Supporting and reaching out to women and other underrepresented groups is essential for extending the opportunities Free Software provides to more people and making our software better. This year, there were 41 women among 230 GUADEC attendees, which is 18% women attendees. Four years ago, there were 8 women among 160 attendees, or 5%. People often comment that it feels more natural that there are more women participating in the conference. I think it feels that way not only because the tone of the conference changes when more women are present, but also because it feels good to know that a whole segment of population is no longer staying out.

This pent up demand is being echoed in other communities participating in the Outreach Program for Women. The Wikimedia Foundation has 7 women participating in its Google Summer of Code, while they have only ever had one woman participate before. The Linux Kernel had 39 Outreach Program for Women applicants, 11 of whom landed 148 patches during the application process, and 7 of whom were accepted for the program.
The Ada Initiative helps make conferences a friendlier environment for everyone, connects women and allies with its blog and AdaCamps, and helps fight the impostor syndrome which affects many women in technology. I have learned a lot from the Ada Initiative blog, used it as a platform to reach Outreach Program for Women applicants, and met new Outreach Program for Women mentors and coordinators at AdaCamps.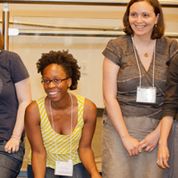 A post on the Ada Initiative blog about Courtney Stanton's effort to attract women speakers to a game conference she organized taught me that even once women are participating in the community, they are hesitant to present at conferences and some encouragement can go a long way. With a supportive e-mail and some brainstorming, we brought the number of women who presented at GUADEC this year to 10, or 21% of speakers, compared to only 4, or 7%, last year.
The size of the strides we can make in increasing the inclusiveness of Free Software depends directly on the financial support the Ada Initiative receives during its current fundraising campaign, which will enable it to plan the breadth of its activities for the next year. Please join me in ensuring we keep making big strides.