Just because a tool exists that allows you to do something does not mean it is the right thing to do.
Sometimes we realize it was not worth doing in the first place.
Sometimes we realize there are better ways to accomplish the same goal.
And so it is with widget tool kits as well.
I urge you to avoid using the GtkProgressBar's dreadful activity-mode.  You know the one – where the "progress" bar pulses from side to side and back again.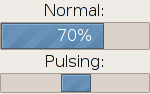 If possible, figure out a way to estimate the duration of an action so you can use the progress bar for what it is designed for.  If you can't then maybe something like an activity spinner/throbber is more appropriate.  Code that simply calls gtk_progress_bar_pulse very likely needs to get fixed.  We should probably update our Guidelines too.
Unless you have an Anamorphic Equalizer please don't pulse all over my screen.
(I really wanted to include a Dead Ringers reference but it didn't quite get the same point across)