Within Netherlands each company is by law required to have first responders. These handle various situations until the professionals arrive. It's usually one of (possible) fire, medical or an evacuation. Normally I'd post this at Google+ but as that's going away I'll put it on this blog. I prefer writing it down so later on I still can see the details.
While having lunch I noticed a notification about the fire department going to my (huge) office building. As this was during lunch time and there might be way less first responders available I headed back. The message says "Handmelder" which is Dutch for those manually operated red boxes. As these are manual the fire department assumes someone verified that there's a fire.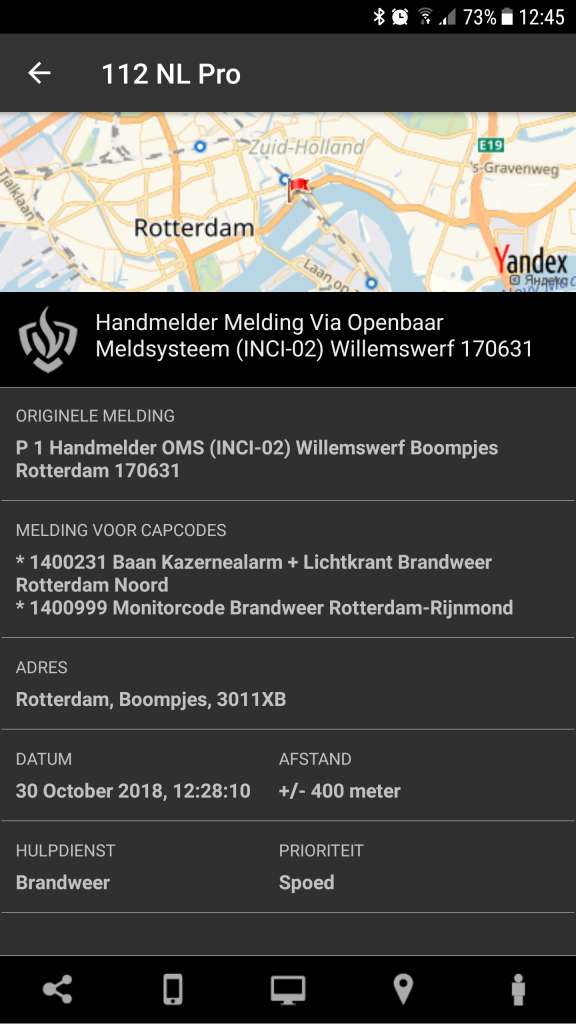 According to Google Maps the fire department is a 7 minute drive away, so a maximum of 5 minutes for them. I saw them using a road which was partly closed for construction. A bit strange as they've been informed & there are signs. Anyway, I went inside. At this point I don't know much. You hear people asking what is going on. I can guess but better not to assume too much. I do see that one of the fire doors closed itself. I notice the lack of an evacuation alarm though the pager indicated it's either cellar, parking level or ground floor.
To help out I need a bright vest and a walkie talkie. The bright vest is very important a) for fire department to recognize whom to approach b) force people to listen to me. A walkie talkie I have at my desk, that's useless as the elevators won't work, I have no idea what is going on and it'll take forever using the stairs. To start I take a bright jacket as well as ask and get for a spare walkie talkie from security. It takes a bit until I notice the walkie talkie battery is dead. I want to find another but there's 2 unneeded people in the security room standing in the way so quickest is to ask again. Normally security is a hell during these things so I really don't want to distract security. Fortunately there's another working walkie talkie.
I announce myself and ask for instructions. I get told to check parking level 4 east side. Normally I easily know east vs west but at the moment not so much, I'm more thinking on how to approach safely but quickly. Last week security mentioned that the new fire detection cables have east and west mixed up. It seems easier and safer to check the entire parking level.
On parking level 4 I initially see nothing strange plus I'm the only one. This is strange as I was late to arrive to the incident. I missed all of the previous conversations. It's a waste of time to ask about this so I skip it. I don't see any fire at all, though there is a hell of a noise. I first check if it's one of the cars (super easy). Nothing. There's also various doors for building related things. Normally I'd have keys for that but alas, not now. I relay that first impression is no fire. I get told to check everything as per request fire department. I don't get why they don't come up but pointless to wonder. It takes me a few minutes to check the various doors. I check for fire indicator lights (fire behind a door) as well as a door check (heat, smoke). Nothing to be seen. Meanwhile a car enters the parking level. That should not be possible and usually cannot be done (parking gates close). Something to tell security. I communicate that nothing found except a really loud running airco.
As of a month ago the building has a fire detection cable on all parking levels. It is very sensitive to temperature changes. It's also installed above the parking places close to two airco outlets. They thought ahead of the potential problem and they said they addressed it (made it less sensitive). My guess is that it's still too sensitive.
One incident leads too loads of questions. Some answered during the incident, some just after, some take a while. There's been enough learnings in this one.