Shortly after I assembled my current/old pc the older pc died. I intended to have two and ended up with only one; my NUC. With memory prices slowly dropping to more affordable levels I decided to assemble a new pc.  I tried to go for components with a good price/performance. I don't want to spend 50% more for maybe 10% more performance. Next to price/performance I opted for an AMD CPU because Intel has so many more security issues. I went with a 1TB SSD (SATA because of price/performance), 65W TDP AMD Ryzen with integrated GPU, a mini-ITX size motherboard with good 5.1+ sound, plus a fanless case. PSU wise I found a laptop-like PSU/charger which needed a DC-DC converter. The result is an utterly quiet pc. I did a stress test and checked the temperatures. Everything seems ok, though wonder how things will be during summer. I quite like the lack of any noise.
My existing older pc is a NUC with a slowly spinning fan. I noticed a company making fanless cases for pretty much all NUC models. I'm wondering whether to make my existing NUC fanless, or maybe do something else.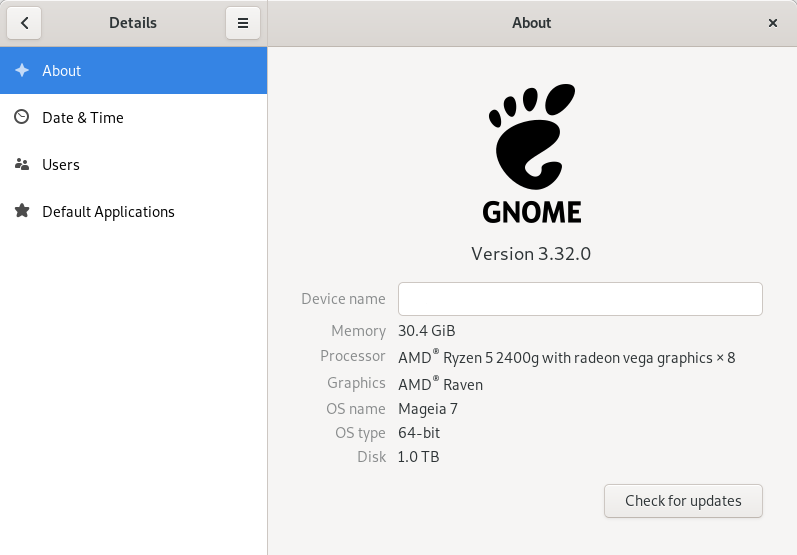 Installing Mageia was annoying. Latest stable didn't work, latest beta same. Eventually ended up installing it via internet (net install).
Before buying all the components I wasn't aware something like fanless existed for such a CPU. It's nice to do the research and make a pc which mostly follows the  tips  I found, my preferences and the trade-offs I had to make. Price wise I spent about 800 EUR on the various components (I didn't list all of them). In case people want to know the exact components I'll put it into the comments (update: had to put it under the "more" link). I'm trying to avoid making this appear as an advertisement.
I'm going to link to a Dutch price comparison website for most items.
General tips:

The power supply and the pico psu/DC-DC converter aren't 100% efficient. Meaning, 150 Watt from the power supply will be less when it arrives at the pico psu. Same for when it arrives in the mother board. On the other hand, power supplies are really inefficient if they're underutilized. Meaning, if you only run it at 50% performance the power supply and convertor will waste a lot of power. Make sure to pay attention that the voltages are all ok. Meaning: that everything accepts the same voltage (12 or 19 Volts seems to be common).
AliExpress and Ebay have a lot of questionable Pico PSU/DC-DC converters. They're cheap, but the reviews made me question buying those. I noticed a lot of sites reselling the AliExpress ones under various brands. Make sure to recognize those AliExpress ones. See for instance the ones sold by RGeek store.
I bought 20 grams of thermal paste due to a) better heat transfer than the one which came with the case b) a comment that there isn't enough thermal paste with the case. The case came with (I think) 2x 10 grams. I'm pretty sure 8 grams would be enough and I applied it generously. If you get a less power hungry CPU then stick with the one from the case; it's pretty good as well from reading the specification. Spec showed 5W/m.K, the one I have is around 8.5W/m.K.
Another price comparison sites I know: Geizhals.eu, I also used Google
The Dutch Tweakers.net site allows you to add multiple products and then calculate the cheapest combination of shops including shipping costs (probably only works for .nl, .be). It also gives alternative shop combinations.
Fanless NUC cases: Akasa, they also have nice options for motherboards for Intel CPU's (seems most of those motherboard have a fixed layout).
I wanted the pc to be small. My NUC is tiny, the new pc is still huge in comparison. You're paying a significant premium to have use small components. If you do not go for mini-ITX sized motherboard you can save a lot on the motherboard. Same for the fanless case, it's also possible to use a quiet CPU cooler (e.g. Noctua NH-L9a-AM4). The fanless case plus PSU and so on was 200 EUR. There's cases for 40-50 EUR including PSU.