Some of you have probably heard that some folks at Sun have been working on a proposal for a tidied-up GNOME control center shell. Well, at long last, here are some details!
First of all, I should say that I actually have little personal involvement in this project—it's being led by Kristin Travis and Jenya Gestrin of Sun's xDesign team… I'm just abusing my position on Planet GNOME to plug what they're doing 🙂 And as yet, there's no production code to speak of, just mockups and Flash prototypes, so there's still plenty of scope for feedback.
You can download the latest protoypes, peruse numerous mockups, and read about the design process to date (including a usability study on the capplet categorisation) on the Usability Project's Control Center Whiteboard pages.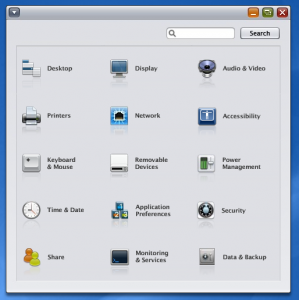 Feedback welcome here, on the control center mailing list, or direct to Kristin and Jenya.