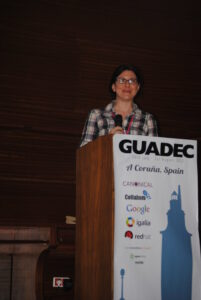 What: GUADEC CfP Office Hours
When: March 11 (14:00 UTC) and March 18 (23:00 UTC)
Where: GUADEC channel on Rocket.chat
The GUADEC 2021 Call for Proposals is open! We've scheduled CfP office hours for Thursday March 11 (14:00 UTC) and Thursday March 18 (23:00 UTC).
If you're interested in presenting at GUADEC and want to talk with organizers and experienced speakers about your ideas, have someone look over your session proposal, or just want to ask some questions about speaking at a conference, come by Office Hours to discuss all of these and more!
Join us in the GUADEC channel on Rocket.chat in the upcoming weeks to work on your CfP responses! Hope to see you there.