This weekend we had the 2,000th review submitted to the ODRS review system. Every month we're getting an additional ~300 reviews and about 500,000 requests for reviews from the system. The reviews that have been contributed are in 94 languages, and from 1387 different users.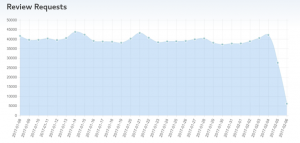 Most reviews have come from Fedora (which installs GNOME Software as part of the default workstation) but other distros like Debian and Arch are catching up all the time. I'd still welcome KDE software center clients like Discover and Apper using the ODRS although we do have quite a lot of KDE software reviews submitted using GNOME Software.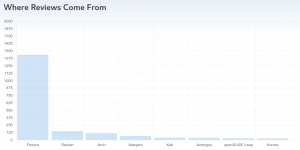 Out of ~2000 reviews just 23 have been marked as inappropriate, of which I agreed with 7 (inappropriate is supposed to be swearing or abuse, not just being unhelpful) and those 7 were deleted. The mean time between a review being posted that is actually abuse and it being marked as such (or me noticing it in the admin panel) is just over 8 hours, which is certainly good enough. In the last few months 5523 people have clicked the "upvote" button on a review, and 1474 people clicked the "downvote" button on a review. Although that's less voting that I hoped for, that's certainly enough to give good quality sorting of reviews to end users in most locales. If you have a couple of hours on your hands, gnome-software --mode=moderate is a great way to upvote/downvote a lot of reviews in your locale.
So, onward to 3,000 reviews. Many thanks to those who submitted reviews already — you're helping new users who don't know what software they should install.