As you might know, gedit has been ported a while ago to run natively on OS X (and on windows for that matter). Lately, the OS X port has been lacking updates. This is mostly due to the huge changes that were introduced in 3.x in much of the stack, and a lack of time. However, over the last few weeks, I worked on and off to get a proper OS X application released for our latest gedit (3.2). The installation is a simple drag and drop of the application bundle (as expected).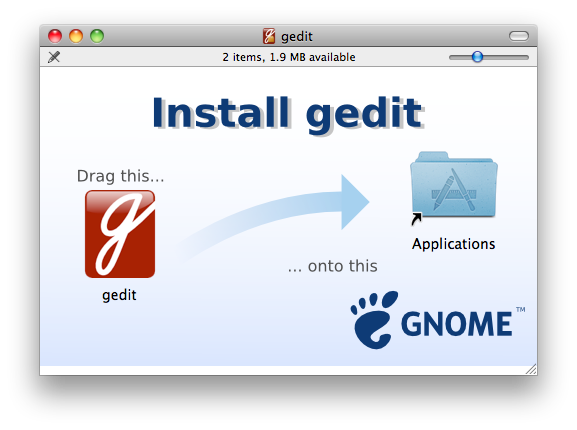 Improvements
With respect to the previous release (apart from having all the 3.2 goodness), the integration with OS X has been improved. For example, we now ship binaries for Tiger, Leopard and Snow Leopard, integrated native apple spell checking, fixed issues with translations and fixed various issues with keybindings and the global menu (which annoyed a lot of people in 2.32 using different keyboard layouts).
After installing gedit and launching it, you should see something like the following: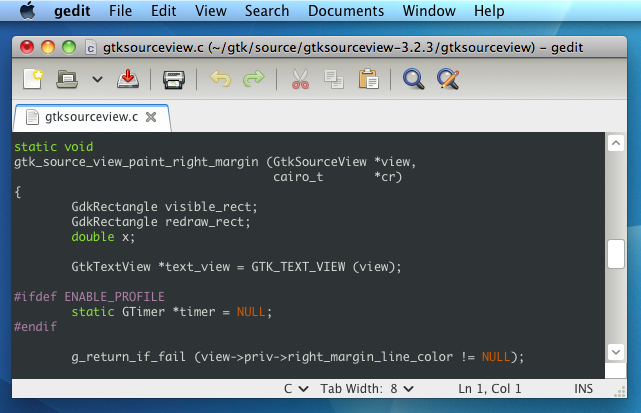 Integration
As you can see, we have spent some effort (just as previously) to integrate gedit in OS X natively. Most of this effort is not spent by gedit, but by a small group of people doing amazing work on the quartz backend of gtk+ and on mac application integration (yes, that's you John Ralls). I really want to thank everyone spending a lot of effort to integrate gtk+ (quartz backend) and GNOME applications (mac integration) into OS X. Without these guys a gedit port for OS X would simply not exist.
Build process
Whereas gedit for OS X was previously built by me in mixed environment of jhbuild and custom checkouts with various patches (pushed into github), this time I decided to handle things more properly and integrate the whole build process in the gedit tree as a jhbuild moduleset and accompanying patches. This also solves the issue with the previous binary for which we did not strictly adhere to the GPL, in the sense that it was almost impossible to recreate the binaries from source. This time, you can simply follow the instructions in the osx/README file and everything should be built for you the same way I built it on my machine. This meant I started basicly from scratch, which is also why it took quite some time to get everything working as expected.
Porting applications
I think that gedit is a great application showing how you can port an application using a lot of GNOME/freedesktop technologies to another platform (hopefully we will have a 3.2 for windows soon too, poke nacho ;)). gedit uses dbus, libpeas (gobject-introspection), plugins (C and python), printing and more. All of this works (or at least should work :)) on OS X, and we are getting more native with each release. If you are interested in porting your application to OS X, please feel free to have a look on how we do it for gedit.
Bugs
I expected a series of bugs and releases for gedit 3.2.6. On the one hand a lot of software has seen a lot of development, none of which were tested on platforms like OS X (or windows). On the other hand, I'm still expecting some issues resulting from building binaries on one machine for different distributions. For example, the first release was quite a disaster, crashing on launch due to some issues with iconv and a set of hard coded paths (which worked on my machine, but obviously not on others :)). Anyway, I would like to invite anyone running OS X to try and install gedit 3.2.6 and report any issues in gnome bugzilla!