One of the reasons JavaScript was chosen as the language for GNOME Shell is as Owen mentions: "… a lot of people are familiar with it from the web.". It's not a new idea but certainly an exciting one. Who wouldn't want to be able to run their desktop application on the web or their web application in a desktop environment?
A fairly common complaint about Gjs is that it's not possible to use cairo from it. Cairo bindings were recently committed to Gjs, but I didn't quite find the time to write a couple of nice applications demonstrating how to use it. But instead of writing my own blingy cairo application I thought, wouldn't it be nicer if I could just take a canvas demo from the web and with minimal modifications run it on top of gjs with cairo?
The missing piece to that goal is a HTML5 Canvas & CanvasRenderingContext2D API on top of the cairo binding. After a couple of bug fixes in gjs I got it to a point where I could run a slightly modified version of a simple clock example in gjs: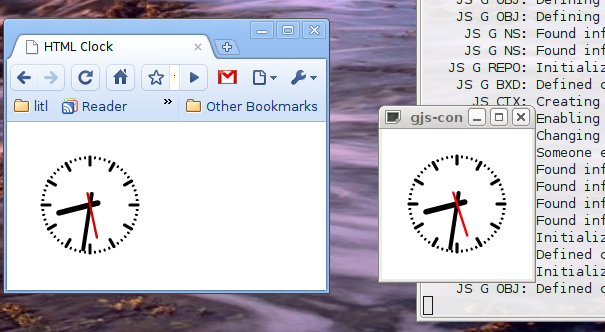 The screenshot aboves shows the same code running in the browser to the left, in HTML. To the right is the same code running on top of Gtk+, before you ask, the source code can be found here on my github page. If you want to run this you'll need patches from these two bugs applied first.
There are a couple of other APIs that would be nice to have in Gjs such as DOM, Storage, WebGL. I didn't try to implement these, but let's hope someone does so the GNOME developer environment can provide familiar apis for the huge pool of web developers out there.