At the end of last year, my wife Isabelle asked me if I could create some postcards for the association she works for. The idea was to have something that can serve both as a greeting card for the new year and an indication that they have recently moved into new offices. After a couple of iterations with POV-Ray and GIMP, I eventually managed to create something that she and her colleagues were happy with. I created a winter scene showing their front door (modelled from photos), some cardboard boxes in front of it and some trees in the background instead of the ugly wall that is there in reality.
Later, she asked me to create some posters showing different versions of this scene. I re-rendered the winter scene at a higher resolution (approx. 3000 * 2000) and I also created a summer scene in which the snow is gone, the grass is greener and there are leaves on the trees. Here are some smaller versions of these images: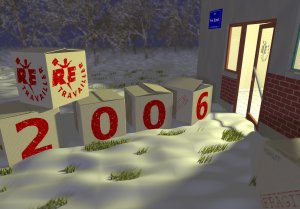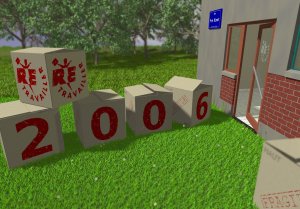 I gave Isabelle a CD-ROM containing these images and she went to the cheapest print shop nearby to get them printed on posters (100 * 70cm). At that size, the resolution of the images is 75dpi. I thought that it would be good enough for a poster that is designed to be viewed from some distance.
Well, it turns out that the employee of that shop discouraged Isabelle from printing the posters because they were not at 300dpi. She claimed that the images would look bad because of the low resolution. On the other hand, she looked at the samples that I had given to my wife (printed on photo paper) and she said that she would not be able to get the same quality on posters. Go figure. Oh, and she also said that her computer could not read that strange PNG format, but fortunately I had also included a JPEG version.
Anyway, she asked for 300dpi so she will get them. For 100 * 70cm, 300dpi means about 12000 * 8000 pixels, for a total of 97 megapixels. I wish I had a camera that could take photos at that resolution. I estimated that re-rendering the image with POV-Ray would take a couple of weeks using my fastest computer (which just died anyway – see my previous entry), so I simply let GIMP scale up the image and I only recreated the parts in which the details could be interesting. In the process, GIMP asked me if I really wanted to create an image that took more than 1 GB. Well, sure, that's what the shop asked for! I will burn these files on a CD now. I hope that they will not complain that the image is too large for their computer to handle…