A new version of SpectMorph, my audio morphing software is now available on www.spectmorph.org.
One main feature is that besides providing VST, LV2, JACK and BEAST support on Linux, this version is the first version that also provides a VST plugin for (64-bit) Windows.
To make the VST plugin portable to Windows, the plugin UI now uses the pugl library (with GL + Cairo) instead of Qt5. This should also allow supporting macOS in the future.
Since the whole plugin UI was reimplemented, a new design is used, and many small improvements were made; the UI is also ready for high(er) DPI displays, everything can be scaled using a global zoom factor. Below is a screenshot of the new UI: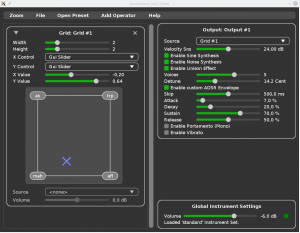 Other changes are:
A new non-linear mapping from midi velocities to volumes was implemented
New instrument: French Horn
Improved tools for building custom instruments
LPC/LSF support removed