The GNOME Foundation exists to further the mission of the GNOME project.  The Board of Directors are elected by the Membership to carry out the necessary tasks.  I have had the opportunity to work with more than a few GNOME Boards, and while each year is different, there are many traits the Board Directors have in common.  The Directors are:
passionate about GNOME
happy to help
volunteers
Amongst the things they are not include:
omnipotent
infallible
mind readers
The Directors really want to help the GNOME Foundation members in their efforts to improve GNOME.  It is, after all, a big part of why they volunteer their time on the Board.  If you have an idea of something you can do to improve GNOME but could use some help, please contact them!  They may sit behind the imposing-sounding board-list@gnome.org email address, but they are very approachable.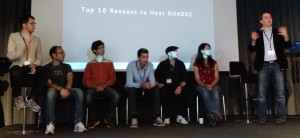 Previously approved requests have included money for release parties, marketing materials, or hackfests; letters of recommendation or other paperwork; and help finding the right person to help with your problem.  If you have an issue that the Board can help with, please let them know.  They can't help you if they don't know about it!