After spending Day -1 and Day 0 with the GNOME Board of Directors for the annual in-person meetings, GUADEC proper officially began today. With much excitement in the air, people were lined up out the door for registration.
Remembering the past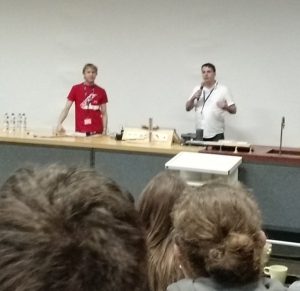 For us who have been around for a bit, it is always nice to be reminded of prior GUADECs. Shaun McCance evoked happy memories with his cheerful good morning to open up the conference. Bradley Kuhn's keynote referred to past GUADECs he has attended. Coming up on GNOME's 19th birthday, it is good to remember how we got here.
Celebrating the now
From the first talk (Alex Larsson's talk on Flatpak), the first day of GUADEC moved at a quick clip. There were great technical talks that gave us insight into the goings on of multiple projects. However, I did end up missing some of the afternoon talks as I went out on a secret mission to acquire a specific garment for the AGM on Day 2.
Heading towards the future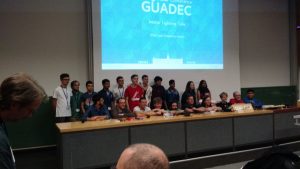 The intern lightning talks are one of my favorite parts of GUADEC. It was exciting to see what they have been working on and welcome them into the community.
Carlos Soriano and Bastian Ilso gave a wonderful talk on the GNOME Newcomers initiative and gave ideas on how we can improve our ability to retain their interest. It is so wonderful that we as a community embrace our newcomers!
…and even further in the future
We knew this would be the case before we even arrived. The GUADEC wiki contains a wonderful page full of ideas for what might interest kids in the city. When we arrived at the venue, we saw the corner of the foyer area stocked full of colorful toys and colored pencils to occupy the children. The picnic along with the games were fun for all and it was a great way to introduce the next generation to how awesome our community can be.