Back to GUADEC
Four years after my first attendance of GUADEC, in Thessaloniki, I was fortunate enough to once again attend, in-person, the main GNOME conference, which was hosted this year in the enchanting city of Riga.
These were four long years! Alright, I've watched the online editions of 2020 and 2021, but that doesn't count. Honorary mention to the Berlin "mini-GUADEC" in 2022, which was de facto a satellite venue and which I was very glad to attend in-person. It did have some of the GUADEC spirit and that was where I first met a lot of faces who I was very happy to see again this year.
Travelling from the diametrically opposite corner of Europe, and constrained by the number of PTO days I could to allocate, I couldn't avoid air travel, but I've at least managed to replace one airplane connection with a high speed train travel.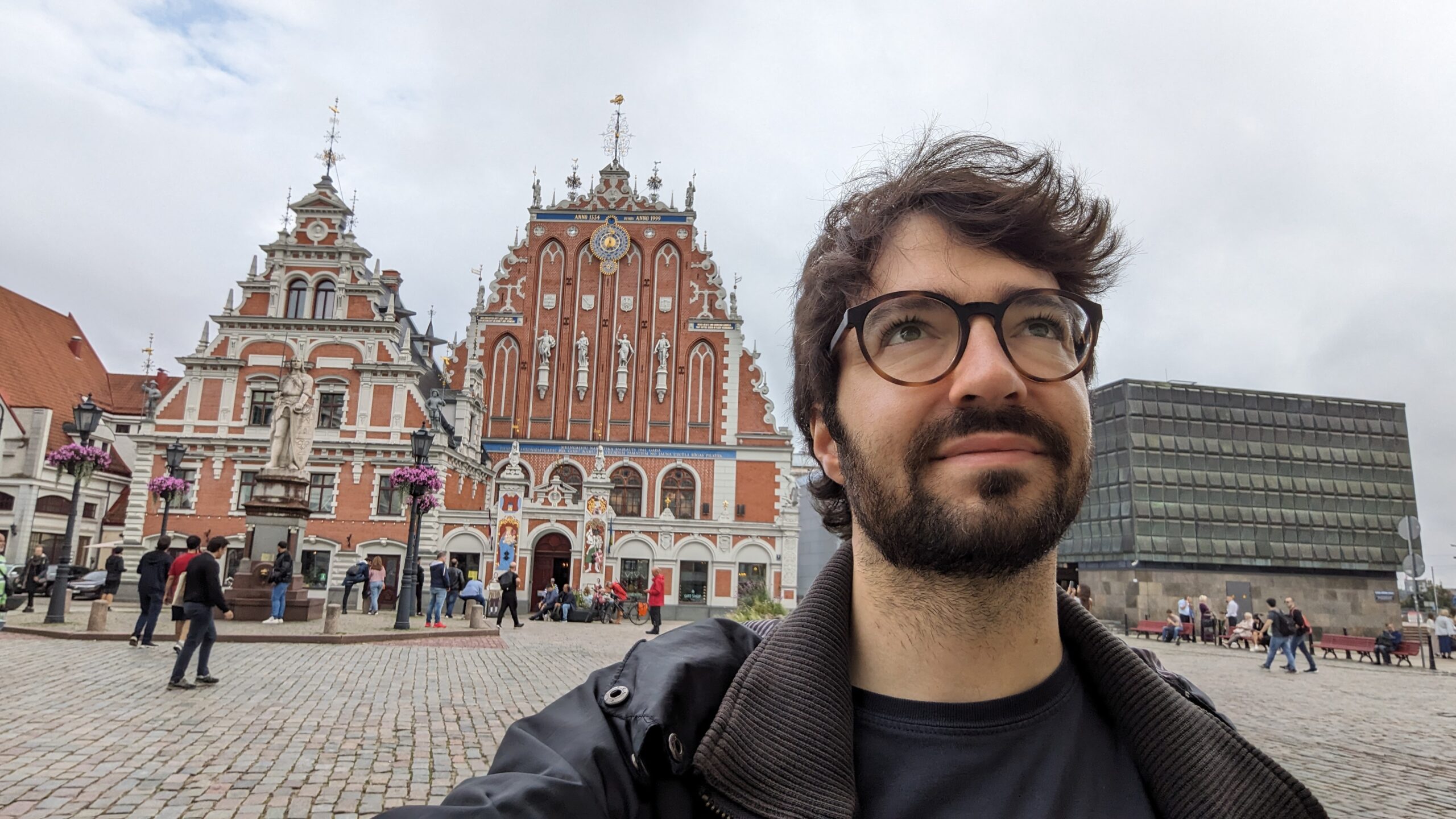 My First Talk
While contributing to nautilus, I often find myself doing code archaeology, i.e., looking into past revisions to make better decisions and avoid past mistakes. But there is also the fun of looking at how different things were 20 years ago. Last year, when I blogged about some of these findings, I was surprised by the  public feedback, both nostalgia from people who remembered that, and surprise from people who had never seen it.
That was when I realized it could be a good idea to share more such content as a presentation for GUADEC 2022. I even drafted the talk proposal, but in the end didn't submit it because I was busy with life, the GTK 4 port, and 2 GSOC interns. So, this year I decided to go ahead and I was very happy to be accepted as a speaker for GUADEC 2023!
The original intention was to have other nautilus contributors join me to speak about on-going developments and future plans, while I focused on the history of nautilus only. But I was the only one who could make it to Riga, so I ended up taking up the stage alone to talk about past, present and future. I must admit I became a little nervous the 5 minutes before the talk!
But it went great. The room was full and I enjoyed seeing people react to both screenshots from the past and demos of new enhancements coming  in the room. The questions from the public after the presentation were very relevant and made for a great discussion. I was very happy to share how healthy and fun the project is right now.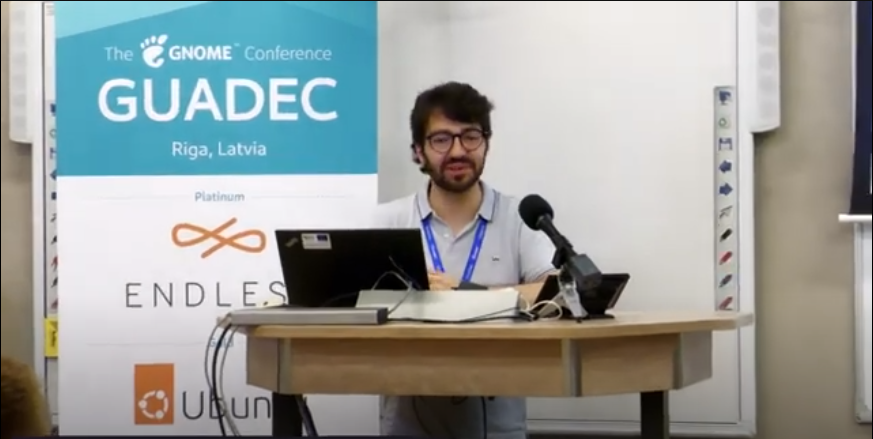 The hallway (and canteen)
GUADEC is not just the public talks. It's also having GNOME contributors bump into each other and get productive results from these collisions. I had very fruitful conversations during coffee and lunch breaks.
Once at lunch, I was sitting on the table with just the right people to clarify some questions regarding Files search: Carlos and Sam, from tracker team, and Allan, from the design team.
I even got dragged into a guerrilla usability testing by the design team, for the new workspace indicator.
Social events
In the first day, I joined the Latvia Old City Center guided tour, which I loved, despite the rain at the end! I was very lucky it was rescheduled from the last day, when I wouldn't be able to join.
Besides the official social events, as usual in GUADEC, it's easy to organize and join informal activities. I had great conversations in bars while metting or getting closer to more fellow contributors. Building these bounds and trust makes collaboration so much easier and enjoyable!
I almost skipped the beach evening. But fortunately changed my mind just in time to catch the train to Jürmala with a amazing group.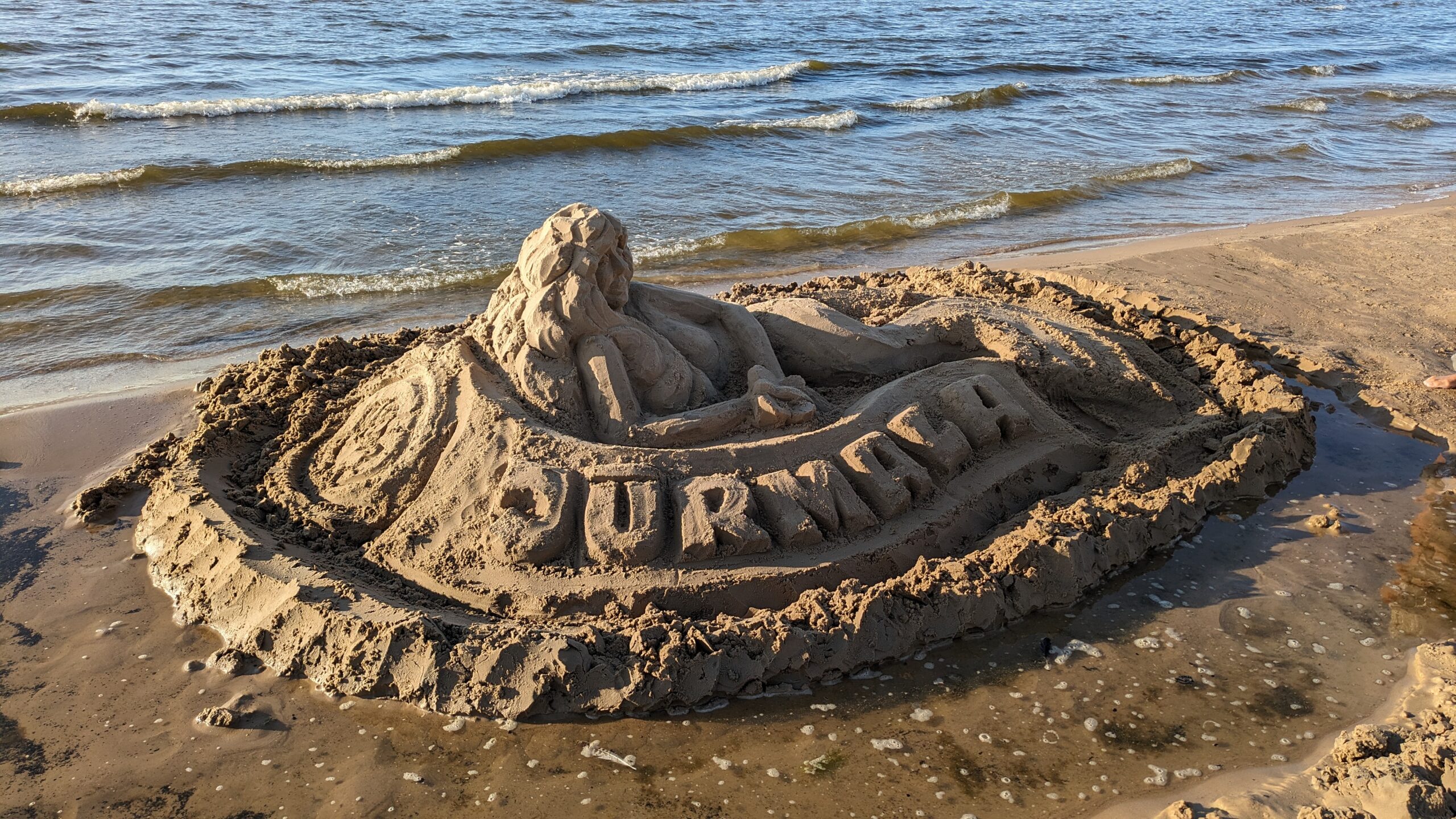 Final words
I cannot finish without praising the local organizing team, for the venue was great and everything went smoothly for me as a speaker and attendee. I'm also very thankful to the GNOME Foundation for sponsoring my travel and lodging. Last but not least, I send cheers to Pedro Sader Azevedo, who was my roommate at the hotel, and a very talented new contributor! I hope to join everyone again in a future GUADEC!