This article is part of a series of articles about why I feel gnome.org is a great home for your Open Source project.
Translations are an important point for the success of a project. Most of the people in the world don't have English as their first language and might not even understand it at all. Luckily a big community is taking care of that issue and translates open source software into many languages including some that would probably just die if there is not enough content for them.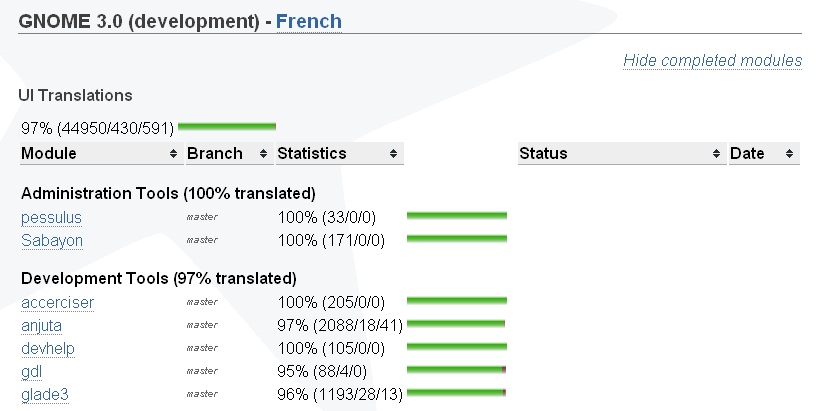 gnome.org provides an extraordinary platform for translatiions called (historically) Damned lies about GNOME. It provides a variety of services and helps to keep translation teams together and productive:
Download up-to-date POT files without having to deal with git
Upload translations for review
Review translation
Managing your team by assigning modules
Translation stats
Automatically commit translations (coming soon hopefully…)
In addition it provides additional information for problems in the project translation infrastructure and links to translation bugs and the possibility to file new translation bugs if necessary.
Getting your app translated
There isn't much you need to do for the Translation Project to pick up your project when it is hosted on gnome.org. Sending a reminder mail to i18n-list cannot hurt though to have your project added to damned-lies. The rest will then just happen on it's own but be aware that translators can be picky about wording! Keep your string clear and understadable, otherwise they will bother you 😉