For people closely following the development of Anjuta that feature is actually quite old as I presented it on GUADEC but it didn't get included until the upcomming 3.0 release.
Thanks to GtkBuilder signal autoconnection you actually don't need to care about manually connecting signal anymore but can defer that job to glade. And as glade is integrated pretty much into Anjuta you also don't have to care about creating correct prototypes for the signal handlers as you can just drag them into your code:
Before: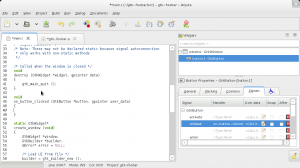 This does not only work for for C but also for Vala and Python. It is actually even clever enough to detect if the handler is already present and to add the handler to the header file if the header file is open.
Documentation Hackfest
Apart from that I am sitting at the documentation hackfest in Toronto fixing up the developer demos we started in Berlin and fighting with various programming languages and bugs.