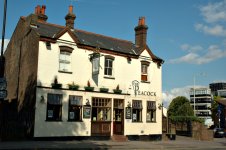 The Metacity Journal bounds back to your screens! It's been a busy couple of days; I think we're about due an unstable release. Here's a quick roundup of life around these parts:
Actual fixes:
Things people are actively talking about (as ever, feel free to jump into the conversation):
Translation: Spanish, Czech, Belarusian, Brazilian Portuguese, and Galician have been worked on recently. Thank you all for contributing and reading and using.
Gossip:
Till next time…
Photo: The Peacock, St Albans. Photo: Gary Houston, public domain.