As you might have heard in many other places a bunch of GNOME and WebKit hackers have met in rainy Coruña for the 3rd WebKitGTK+ hackfest. Many things have been discussed, but today I'm going to give a sneak preview of the new design for Epiphany and its rebirth as the core GNOME Web application.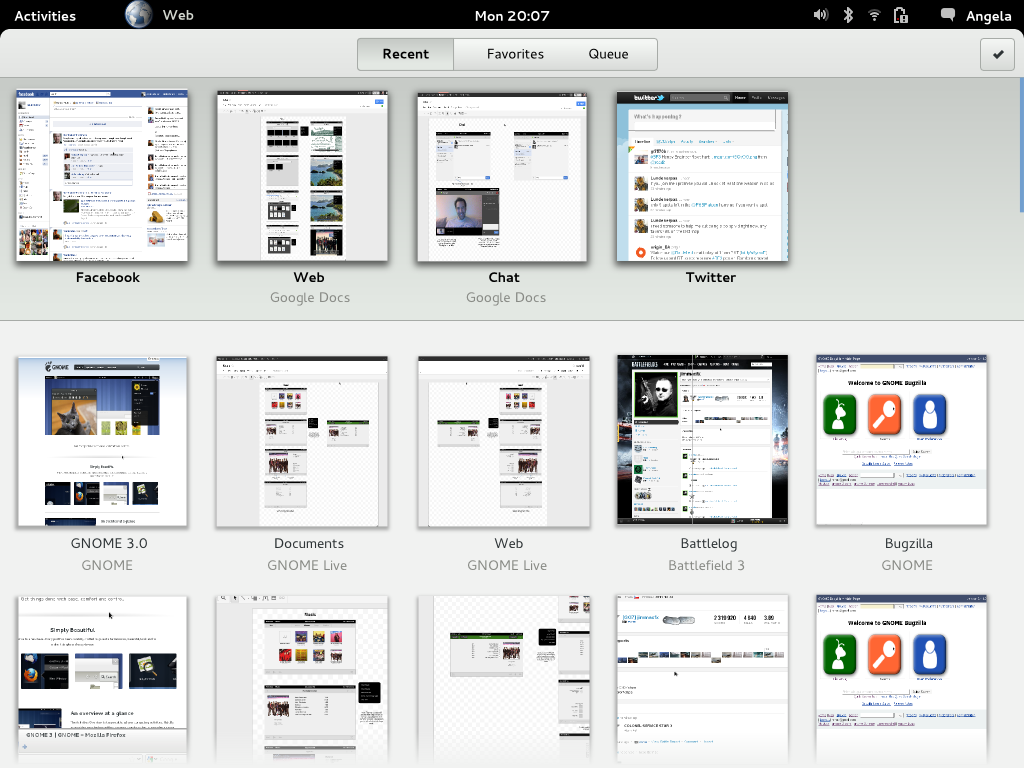 The design is still very much a work in progress, but I can try to briefly talk about some of the highlights of the refreshed concept:
Focus on the current page content. This means, in general, that we'll get rid of as much chrome as we can (a trend that we started some time ago already), and in particular and more visibly that we won't have a visible tab bar by default.
The tab bar might be gone, but we'll still offer a convenient, and we think improved, way of switching between pages. All the currently and recently opened pages are visible in the overview (the new start page), and we'll provide a way of switching between them with the mouse or keyboard shortcuts. You can see an early animated mockup of this in this video of the gnome design youtube channel (link to the video):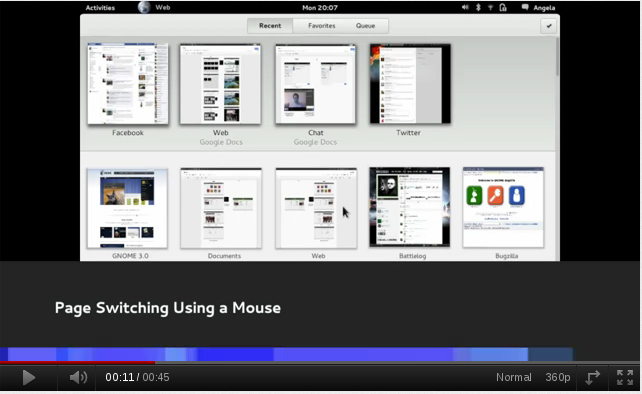 We have tried to identify and make easier other tasks that have been historically solved with tabs. One of the most common ones is "I want to read this web later, I'll save it in a tab". Epiphany will now provide a specialized mechanism for this, called Queues. The design team is working on the details of its implementation, but we have already some interesting ideas; for instance, when you open links in a Google Search results page with middle click a new queue could be automatically created with the results page as the parent and all the links you open as items in the queue.
There's many more ideas that are either refinements of already existing features, like Web Application integration, or nailing down the last details of long-term developments, like improved stability and performance thanks to the upcoming WebKit2 support. Make sure to follow the GNOME Design team or Epiphany channels to keep in touch with things as they evolve.
The mighty Igalians (namely Claudio and myself) are already busy at work implementing the new design. For now we are focusing on a series of incremental patches that will move us closer to the end goal, that way we'll have something usable even if the design or the full implementation of the Web application are not ready in time for 3.4. You can check the current Roadmap, and as always if you want to help us just drop by #epiphany @ GimpNet or send an email to the epiphany-devel mailing list.
Until the next time, thanks to all the attendants to this year's WebKitGTK+ hackfest, and to all the sponsors for their support. Happy hacking!