The Open Help Conference organized each year in Cincinnati by Shaun McCance is a terrific environment for a docs hackfest. It's always a great opportunity to hear and discuss ideas in help and documentation tools, and, thus inspired, write docs.
The conference. Standout presentations for me included an entertaining talk about Ask Ubuntu by Jorge Castro, Red Hat's Rich Bowen on knowing your audience, and Mozilla's Janet Swisher with tips for making doc sprints successful. Warren Block showcased FreeBSD documentation tools, and Steve Gordon demonstrated web-based procedures used at Red Hat. Shaun exposed the machinations responsible for making the Getting Started videos translatable.
The events. On opening night, Shaun hosted a winning reception at Via Vite on Fountain Square, complete with a live concert as a backdrop and the sounds of fireworks on the river. To add to the festive atmosphere, the Reds arranged a homestand. Monday brought bourbon tasting, a fascinating history lesson at Japp's in historic Over-the-Rhine. This was followed by a 7-km march into Kentucky and back (crossing the Ohio River on two different bridges) for a dish called chili in some precincts.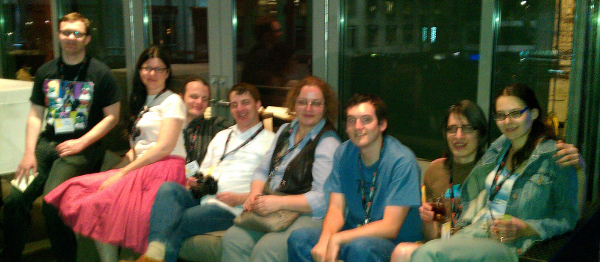 The city. The local cuisine dazzled us with its variety as we experienced Nada (Mexican), The Rookwood (steak dinner inside a pottery kiln), Tom + Chee (grilled cheese with anything), Izzy's Deli, and a delicious last-morning coffee at Aquarius Star aka the Om Café (who also catered the fabulous organic conference lunches). We went for seconds of ice cream and chili; at Skyline the intrepid among us wore bibs for the photographs.
The sprint. Ryan Lortie embarked on a new strategy, HowDoI?, a daring DIY documentation departure for developers – here's the page for GtkApplication. The rest of us brainstormed and wrote content for the devel-docs module with Shaun leading the process, giving the Platform page another facelift and tweaking the code. We built on work done earlier this year by the DX team in Brussels and the docs team in Brno, as well as previous years' work by Phil, Tiffany and a small army of OPW interns. (My earliest experience of GNOME3-era devel docs was Johannes and Germán cranking out pages in Toronto). It will be great to see a combined effort at GUADEC.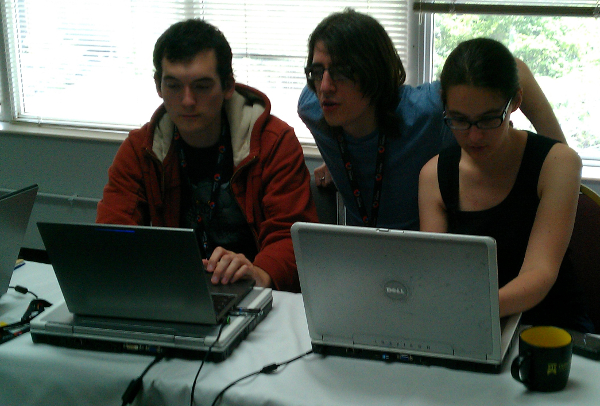 The highlights. We organized an evening of discussion, laptop resuscitation and pizza around Dave & Kat's wonderful gift of Kentish ale. Jim and I caught a couple of periods of Stanley Cup hockey as his team tangled with Boston in a rare Original Six final. Best of all was getting my son Gord involved with GNOME, as he got a chance to learn the ropes, and filled in for the absent interns.
Thanks to Shaun McCance and Syllogist for organizing a sensational conference, and sponsors Mozilla, WordPress, GitHub and Red Hat. Thank you also to the Foundation for sponsoring my travel and accommodation.