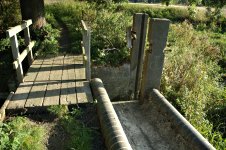 Thanks to Iain Holmes and Thomas Thurman for improvements in this version. This is the first unstable release to contain the new compositor; please try it out and let us know how it goes for you. Downstream maintainers should note that its GConf key is initially turned off in src/metacity.schemas.in and consider whether to turn it on by default in their packages.
merge compositor branch! (Iain) (GNOME bug 499081)
print "Subversion" and not "CVS" when building (Thomas)
Translations:
Jorge González (es), Kjartan Maraas (nb), Daniel Nylander (sv)
Source:
Photo: Footbridge over the River Ver, Hertfordshire, England. Photographer: Gary Houston. Public domain.