Hi,
This post is a broad summary of my experience at FOSSASIA this year in Singapore.
Singapore
This was my first visit to Singapore, and I think it is a very nice and interesting place. The city is very clean (sometimes disturbingly so), the food I encountered was mostly Chinese and Indian, and while selling food out of carts on the street has been outlawed some time ago, there is thankfully still a strong culture of street food available in the various "Hawker Centres" (food courts) where the previous street vendors have taken up shop instead.
From my very limited experience there, I would have to recommend roaming around China Town food street and enjoying beer and food (be warned, beer in Singapore is astoundingly expensive !)… Here is a picture of what it looks like.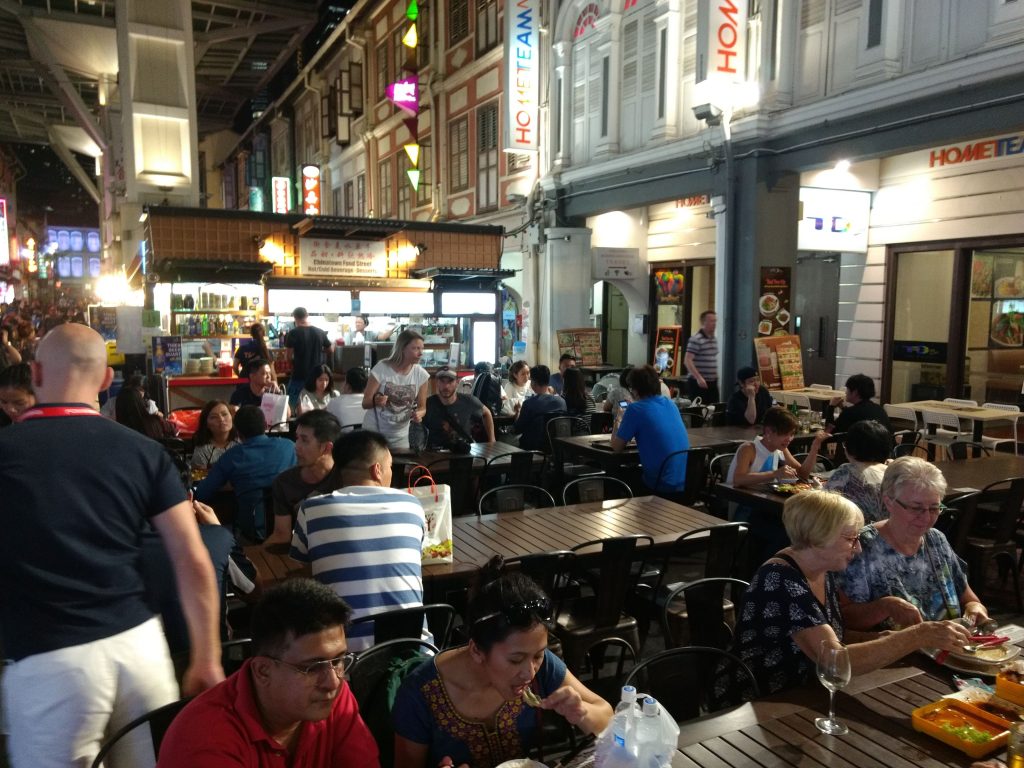 Since the majority of people living in Singapore can speak English, I think this is a great place for a westerner to enjoy their first taste of the Asian experience, without being too disoriented.
The Presentations
The Conference took place in the Lifelong Learning Institute this year, and asides from its obvious focus on FOSS, the conference has a strong focus on education, and also open hardware. There are many students who attend the conference, many whom participated in an exciting hackathon.
There were a lot of talks, so I'll just summarize some of the talks which I attended and found particularly memorable.
In the opening sessions, Lim Tit Meng, who was responsible for hosting FOSSASIA in previous years at Science Centre Singapore, gave an inspirational talk which I thought was quite moving. To quote from the summary of his talk:
Scientific information, discoveries, and inventions should be treated as an open source to benefit as many people and sectors as possible.
There are many reasons for people to get involved in FOSS these days. The ideals of software freedom has been a strong driver, the desire to create software that is superior in quality compared to software developed in silo has been a strong driver for myself. What I took home from Lim Tit Meng's talk is that FOSS also embodies the spirit of sharing knowledge simply for the good of humanity, that we shouldn't limit this sharing only to software but that it should extend across all the sciences, and this is a very powerful idea.
Also on the first day, Bunnie Huang joined us to talk about his project Betrusted, an open hardware design comprised of a simple display, input device and fpga. The idea is to have a hardware design which can be easily audited and validated for tampering, and it can be used to store your private matters separately from your complicated mobile device such as a hand phone or tablet.
I think Bunnie gave a very clear overview of the various attack surfaces we need to care about when considering modern personal computing devices.
The blockchain talks
I attended two talks with a focus on applications of blockchain technology, these were interesting to watch for people like me who don't really have any deep understanding of blockchain (or crypto), but would like to have a higher level understanding of what kinds of applications we can use blockchain for.
First, Ong Khai Wei from IBM gave a talk entitled What would you build next with Blockchain ? where he shared some of the current applications of blockchain technology and introduced us to Hyperledger, a system for managing supply chains.
The other blockchain talk I attended was presented by Jollen Chen, presenting Flowchain, he talked mostly about how we can store and transfer data in a network of IoT devices using Flowchain and IPFS.
Matthew Treinish gave an interesting talk for people like me who know basically nothing about quantum computing. As someone who got interested in quantum computing purely as a hobby, I thought he was perfectly placed to explain things in terms that are simple enough to understand.
This report would be incomplete without a mention of Mitch Altman, a charismatic fellow with an enthusiasm for teaching and inspiring youth to get interested in making things work.
He also gave a workshop in the afternoons where he was teaching people to solder using a selection of kits with neat little lights and speakers.
This was another interesting talk delivered by Daniel Maslowski and Philipp Deppenwiese, unfortunately I was not able to find a recording of this talk.
It included a history of open source firmwares and Daniel's story as an end user, and the hoops he needed to jump through in order to upgrade his proprietary firmware.
Finally there was a demo where Daniel successfully bricked a laptop for us using the manufacturer's closed source BIOS updater, and upgraded the firmware on another laptop using Coreboot (I presume the bricked machine has come back to life by now).
Yes, I did attend my own talk. Although I should say it is by far the worst presentation I have ever given.
The lesson to take home for me is: take the time to understand your target audience and adapt your talk to be more suitable for the audience. My biggest mistake here is that I had adapted material from previous presentations, but those previous presentations had a very technical audience; I could tell as soon as I started my presentation that the people in the room clearly had no idea what I was talking about (although I did ask for a show of hands in a couple of instances and stopped to explain some things which clearly needed explaining).
Instead of explaining how our tooling addresses various problems in existing tooling and how we aim to cleanly separate the "build" problem from the "deployment" problem – I really should have taken a step back and made a presentation about "Why people should care about how their software gets built and integrated" in general.
Closing Ceremonies
On the last day of the conference, we got to see the students who participated in the hackathon present the applications they developed.
The hackathon itself had some interesting guidelines. As UNESCO is one of the primary sponsors of the FOSSASIA event, it seemed fitting that the hackathon competition entries should be related to protecting endangered indigenous languages and culture, in observation of the Year of Indigenous Languages.
The result was truly splendid and this was probably my favorite part of the entire conference. You can watch the young coders presenting their projects here.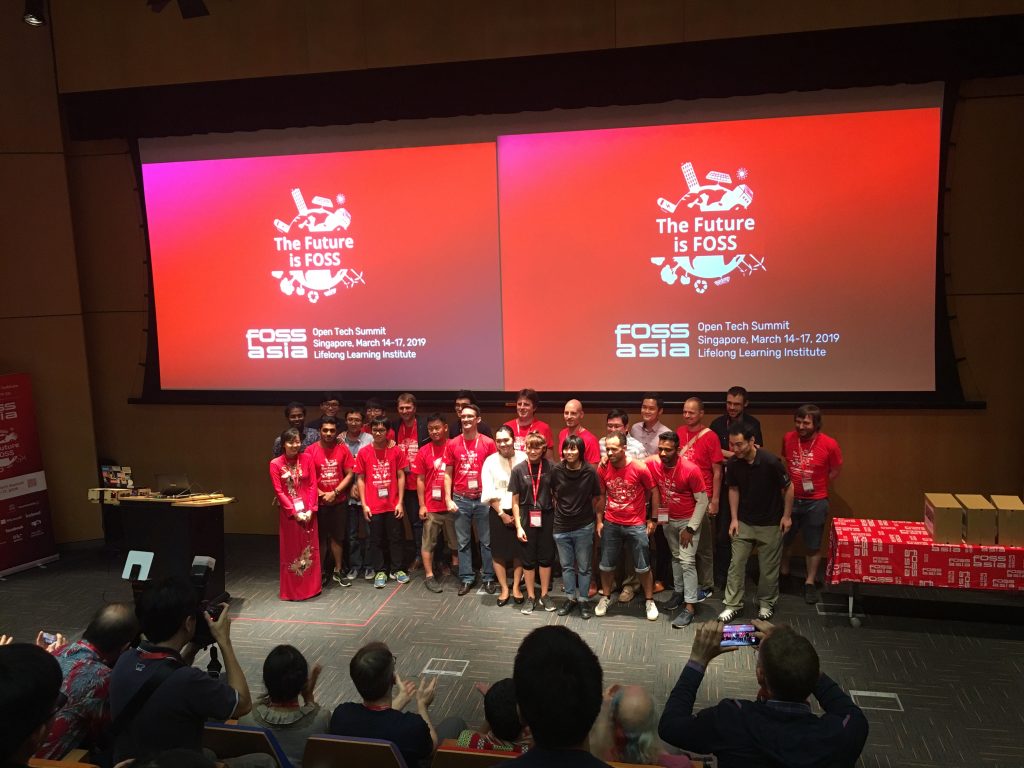 On the closing day there was also a professional photographer taking pictures of anyone who volunteered, I took the opportunity to get a "GNOME + GitLab" photo as I was wearing my GUADEC shirt and some of the GitLab development team was also present.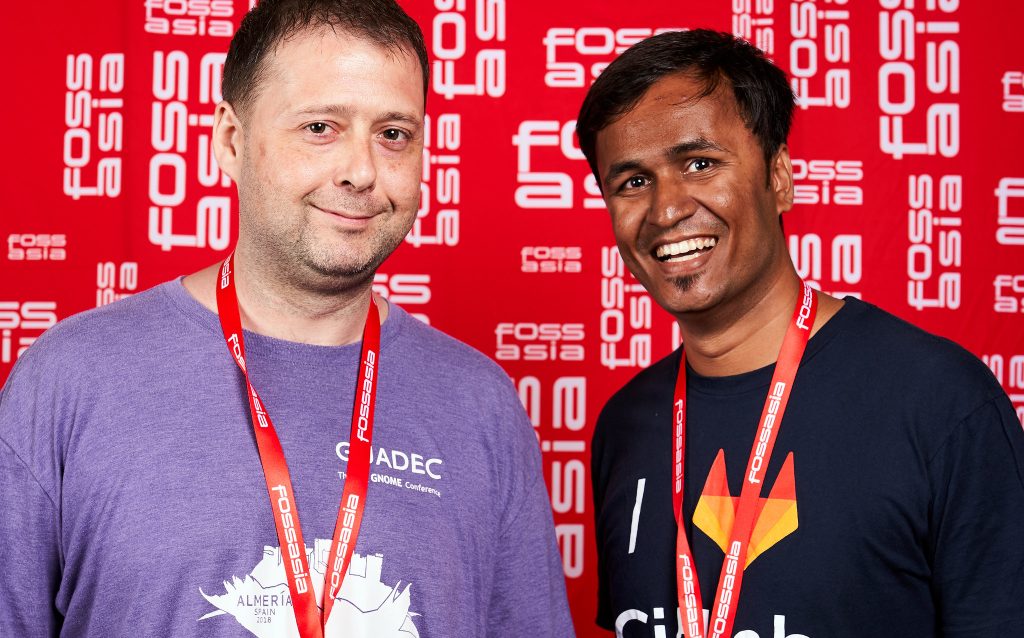 Thankyou
I'd like to thank Hong Phuc for accepting my paper on such short notice, and all of the organizers and volunteers who's hard work helped to make this such a wonderful event.
And of course, thanks to Codethink for sponsoring my travel and allowing me to participate in this event !