Yesterday we released WebKitGTK+ 1.1.14, Epiphany 2.27.92 and Epiphany-Extensions 2.27.92. I haven't blogged about releases in a while (sorry!), and as the good people at Ars Technica mention development is moving at a "swift rate" (btw Ryan, you can remove the ugly hack to get the contents of the page from your app and use the new and shiny WebKitDataSource APIs) , so there's a lot of ground to cover. I won't go through all the APIs and fixes we have done in the last months though, you can always check the NEWS file for a brief summary, or check our documentation page to see what new APIs landed on each release.
To begin with, one of the most visible things that were done in this release is the resurrection of the AdBlock extension, which was the last lonely point to address in our TODO list for 2.28:
Also in 2.27.92, we added support to import all your passwords from the old gecko profile. This requires an optional compile-time dependency with NSS, but I encourage all distributions to enable it to avoid a pretty serious data loss scenario. Together with the cookie import (which landed a long time ago) this should safely bring all your data to the new WebKit world, but I encourage everyone to test this as much as possible before release, since losing data is one the worst kind of bugs there can be.
Another little thing that landed a while ago is a small epiphany extension called 'Soup Fly'. With it you can see the status of the SoupSession Epiphany is using, with all the messages in it and their state: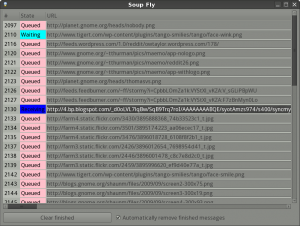 It's already pretty useful to figure out some things (like, "does libsoup think it has loaded all resources in this page?" or "is this resource not loading because the server is not answering or because libsoup hasn't requested it?"), but we have plans to improve it more in the future, extending its introspection superpowers. (Note to GNOME artists: an icon with a cute fly would be awesome for this! nudge nudge, wink wink).
Speaking of libsoup: one of the things that I think have worked out better in this whole story is the relationship between WebKitGTK+ and libsoup. Since we dropped the CURL HTTP backend and went libsoup-only, things have improved a lot, and very fast: missing features landed, like SoupCookieJar, SoupContentSniffer or SoupProxyResolverGNOME (and others in the backburner for 2.30, like SoupCache, content encoding support and the "big IO rewrite"), a lot of bugs were fixed and in general our networking code improved by leaps and bounds. Most of the credit goes to the libsoup maintainer, Dan Winship, so buy him a truckload of his favorite beverage the next time you see him around. And of course, all this benefits everyone else in the platform using libsoup, which makes it even better; more succintly: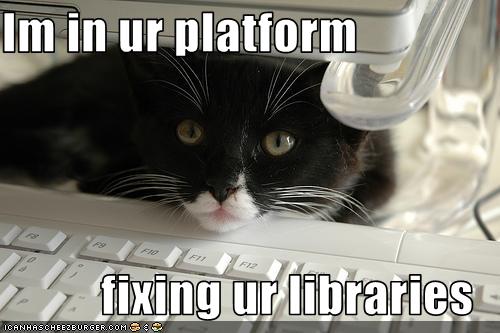 Another area that saw a lot of improvements was accessibility. With the help of great minds like Joanmarie Diggs each release saw a constant stream of improvements, which hopefully moved our a11y status from "OMGWTF" to simply "hum…". Our tracker bug for this topic is this, and this is an area I'll definitely visit again during the 2.30 cycle, since one of my goals in life is to be able to fix bugs faster than Joanmarie is able to open them. Yeah, I know, impossible.
One interesting thing (interesting in the Chinese sense, that is) about working with WebKitGTK+ is that it has so damn big in some senses that you keep hitting obscure corner cases in several tools. Not so long ago, for example, make dist stopped working completely for me, spouting some nonsense about an argument exceeding some maximum length limit. After some investigation and the help of the autotools folks it turned out that between our non-recursive setup and our file count we had hit a limit in GNU make itself. Or that other time when I wasted a couple of days chasing phantom crashes in WebKitGTK+, only to find out it was a bug in GNU ld to begin with. This was already fixed in CVS HEAD though, so that was doubly frustrating.
In short, 2.27.92 is out, we have fixed many dozens of bugs since I last blogged, and the browser is definitely getting there step by step. Go and test it, and reports all those pesky bugs in our tracker. In my next post I'll talk a bit about our plans for 2.30, which include buzzwords like "GNOME Shell", "HarfBuzz", "DOM bindings" and "have you fixed all those regressions yet?".