Welcome to the Friends of GNOME Update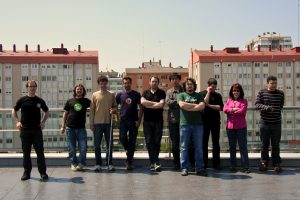 A Victory for Open Source!
We are so, so excited to share the settlement in the legal case levied by Rothschild Patent Imaging against the GNOME Foundation. Ten months after Rothschild Patent Imagining first alleged that GNOME was in violation of one of their patents. In the settlement, Rothschild dropped all charges. Additionally, their patent portfolio is now available for any project using an Open Source Initiative approved license.
You can read an interview between Executive Director Neil McGovern and OpenUK's Amanda Brock about the case.
GNOME on the Road
The Pan African GNOME Summit might have been postponed, but the organizers are hard at work making community meetings happen. At the first meetup, Neil, Program Coordinator Kristi Progri, and GNOME contributor Sriram Ramkrishna presented on various topics. Melissa Wu, organizer of the Community Engagement Challenge, joined for the second.
GUADEC 2020
The GUADEC 2020 schedule is in place, we have some amazingly generous sponsors, and registration is open!
Why register for a remote, free, online conference? Registering for GUADEC 2020 helps the GUADEC team and the Foundation. By understanding who is attending, where you are coming from, and what your needs are, we are able to plan better conferences in the future. Please consider [registering today][].
Community Engagement Challenge Updates
The deadline for the Community Engagement Challenge is coming up on July 1. Don't forget to submit your ideas on how we can bring new contributors into free and open source software.
For the Challenge, we've recruited four amazing judges: Gina Likins, Manuel Haro Márquez, Murray Saunders, and Allison Randal. They represent a wide range of experience across free software, education, and community and technical excellence.
We Finished the Annual Report!
We published our annual report! Check it out if you want to know what the Foundation accomplished in 2019 and highlights from community successes.
We Had a Fundraiser!
Thank you thank you thank you to everyone who supported the Spring fundraiser. For it, we asked people to think of their donations as votes for where we should focus efforts in the upcoming months. We had two "buckets," WebKitGTK development for GTK4 and supporting building a stronger GNOME community in Africa. I'd like to also thank Caroline, Emmauele, and Regina Nkemchor Adjeo for their help.
GTK (and Accessibility) Updates
Core GTK Developer Emmanuele Bassi has, as always, been working hard on pushing forward GTK development. In addition to working on vital infrastructure like technical documentation, Emmanuele wrote an outline for upcoming accessibility rework.
Flathub (In China)
Flathub uses a Content Delivery Network (CDN) that does not work in China. Our SysAdmin team noticed this and went on a quest to find a way to bring Flathub to China. We are now using Oracle Cloud to deliver service to China.
Welcome to the New Board!
Just days ago, GNOME Foundation members voted in the Foundation's annual Board of Directors elections. We're excited to welcome (and welcome back) Regina Nkemchor Adejo, Robert McQueen, Felipe Borges, and Ekaterina Gerasimova. This will be Regina's first term on the Board.
Thank you to our departing Board members! Running a foundation is hard work, and we appreciate their volunteer efforts to set vision, direct the Foundation's activities, make decisions on finances, and go to a lot of important meetings.
GNOME Stands with Black Lives Matter
Earlier in June, Neil published a statement in solidarity with Black Lives Matter. Personally, I am proud to be a member and employee of an organization that understands our role in fighting racism, and how we as a free software community can do better and need to.
From the Community
Thank you!
Thank you for everything you do for GNOME! Whether you are a Friend of GNOME, Foundation member, donor, contributor, or enthusiast, we wouldn't be here without you!