Trains suck. Its not the quality of the train, in fact Great Western Rail trains are incredible. The problem is in terms of the people on the train and what they do on it. The value of trains is critical in society – it is trains that get people quickly from A to B, or B to C or even C to Y and back to A again. Take a trip from Bognor Regis to London. If you were to walk it, it would take weeks. If you take the train, you have a completely different experience. Clearly, places are important, and people need to be able to get them easily.
This week, I have been thinking of how to represent trains in KR. Before I started thinking of a design I first looked at the existing problems with trains. They are:
Trains are fixed on tracks. They go from A to B and then to C. There is no way to get to other places. As an example, I want to get to just before B, or somewhere between C and D
The order of stations is essential. All trains make changing the order of stations difficult.
Trains often suffer from overcrowding, with people and children, bikes and dogs cluttering up carriages.
Many trains use awkward doors that you have to hang out of to open. These are difficult to open with full hands and for children and the elderly.
Timetables are often limited, badly documented and difficult to use.
While thinking about these problems, drawing some sketches and applying some information flow, I have developed what I consider to be a fairly solid design: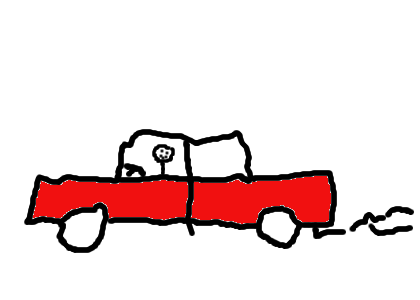 When thinking of a proposed transport system, my first consideration was to have the seats facing in the way that the system is going. Many people (in forward thinking countries) think in this way. When the person wants to go somewhere, they jump in the above system and off they go. With the KR design thinking in terms of places and not people, it gives us a number of benefits that can be used in choosing the right people. In the above design I have made the assumption that the user is going to the shops and you can see the user sitting in the front.
To add a person, the user just asks the person if "they want a lift" and the person gets in the KR in the next available space.
Once I get this design solidified in my head, I'll start building the first KR and if that is a success I'm sure you'll see them all over the place soon. I'll keep you posted.