Breaking with the "every six months or so maybe" release tradition, here's the second Bustle release of the month. What's the new hotness this time? You can record D-Bus traffic by just clicking File → New, and watch the diagram being drawn before your very eyes. After years of on-off development, Bustle can finally liberate you from needing to open a terminal to monitor D-Bus traffic (("Occupy dbus-monitor" is arguably an unexciting slogan.)). Here's a super-brief video tour.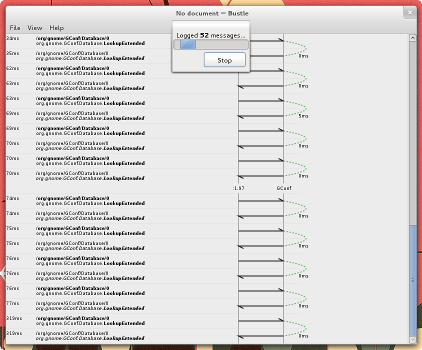 Grab it for x86_64 or i486 today! Unlike the previous release, these work on both Debian and Fedora and have a strong change of working on pretty much anything with a modern-ish Glib and Gtk+2 ((…inasmuch as any version of Gtk+2 can be called "modern", that is.)). (Thanks to my fellow Collaboran Guillaume for testing these tarballs, and to Scott Tsai for his suggestion.) Source and so on at the usual location.
Today's surprising Bustle-assisted observation is that switching to and from the Shell overview causes the Shell to retrieve /desktop/gnome/shell/windows/button_layout from GConf 29 times. (Presumably that number is proportional to the number of windows I have open?) This was extremely useful for testing the live-logging feature, but is perhaps not ideal in many other ways.