AdBlock, integrated
For a long time our adblock story was a bit underwhelming. We had an extension to do the job, but it was buggy and it would often either not block what it had to block or block just way too much (like, the entire page). So in the last cycle we pretty much rewrote the extension from scratch: it just works better, blocks what it has to block, and uses the adblock+ source filter files.
We just felt this was not enough though. Lots of people still found the wrong extension version, or were not aware there was an extension in the first place, so their experience was not as good as we hoped. So for 3.8 we are just going to bite the bullet, and integrate adblock into the browser itself. Last week we took the extension, merged it into Web, cleaned the the heck out of it, and added a simple entry point in our preferences to control it: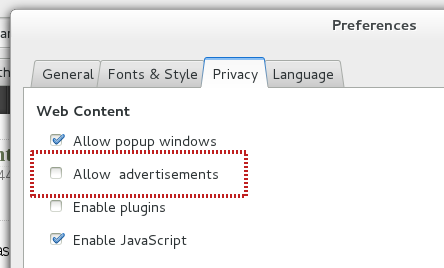 Of course there's still some things that could be done, like a simple UI to edit the filter rules (for instance, to white-list a particular page where you do want to see ads), but for now we feel this is already a good improvement.
Boston Summit
In other news, I'm just a couple days away from jumping into a plane to attend this year's Boston Summit. I'm looking forward to see old and new faces and continue the good discussions and work we started in GUADEC about the present and future of GNOME. On the selfish department, I hope to get hold of some lost designer to start fleshing out the 3.8 plans for Web, there's so much to do.
Thanks to the GNOME Foundation for sponsoring my trip, and to Igalia for allowing me to attend the event!