It's that time of the year again where we have a look at what happened in the project in the last 6 months. In mere weeks it will be released with the shiny GNOME 3.6 (best.release.ever), but since release notes don't write themselves here's a sneak preview of all the new toys in Web-land.
The overview has landed
As Claudio already advanced the most noticeable difference in 3.6 is the first iteration of what we call "The Overview". This is still an evolving design and implementation, but we felt that it was important to land a first version in time for this release that brought actual, solid improvements to the user experience.
What the overview currently does is easy to explain: we have changed the blank start page for a grid that holds your most visited pages. Your favorite pages are now easier to access, especially on touch devices, and we have put valuable screen real estate to work! But what about if some unwanted visitor ends up there? Fear not, if you need to you can remove them from the grid by clicking on the 'X' icon on the top right corner of each snapshot.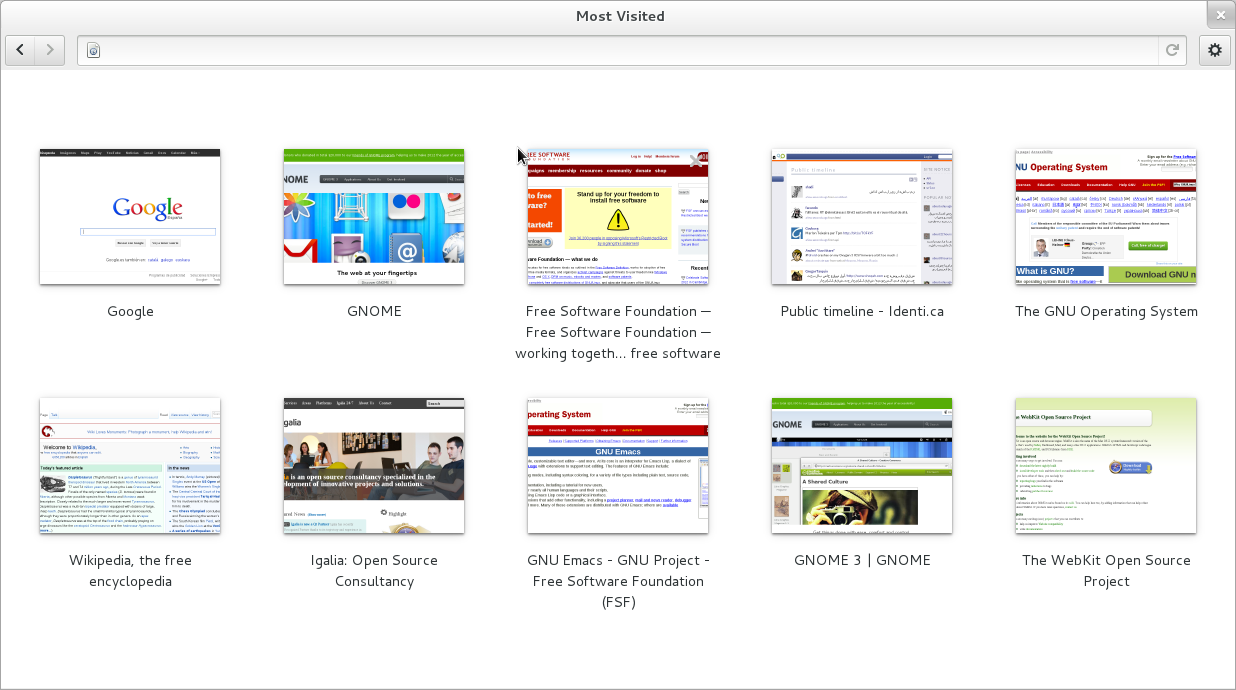 There's more to come, but we feel this is already much better than it was, and fixes a long standing feature request for a better start page experience.
WebKit2, beta
It's been a long time in the making, but the first bits of the WebKit2 support are already in the master branch. As we had anticipated for now it is available in beta form, which means we don't build it by default and there's still some functionality missing. That being said, it is really usable at this point, and doing the actual porting has helped us a lot in maturing the up and coming next generation of the WebKit framework. If you want to give it a shot, just build the browser with "–with-webkit2", and you'll notice:
Increased responsiveness (how amazing the scrolling is!) and stability.
Thanks to the OOP plugin support GTK 2.x plugins work out of the box again. That means Flash support without having to rely on nspluginwrapper.
Other things that are there, but invisible to users, like increased security or a new and improved API, built on top of all our experience with the classic WebKit.
You can look forward to having a WebKit2 powered Web by default in GNOME 3.8, but for now you are more than welcome to give us feedback about this Beta version.
Fullscreen mode, now with more full and more screen
For a long time Web's fullscreen mode was somewhat awkward. You'd still get a toolbar, so it wasn't really fullscreen, plus it would have a strange button embedded in it telling you how to go back to the safety of the vanilla mode. Probably this was fine for the time, but with more and more HTML5 games or presentations done inside browsers, it was about time we had way of making your browser show you the full content and nothing but the content. So we just did that: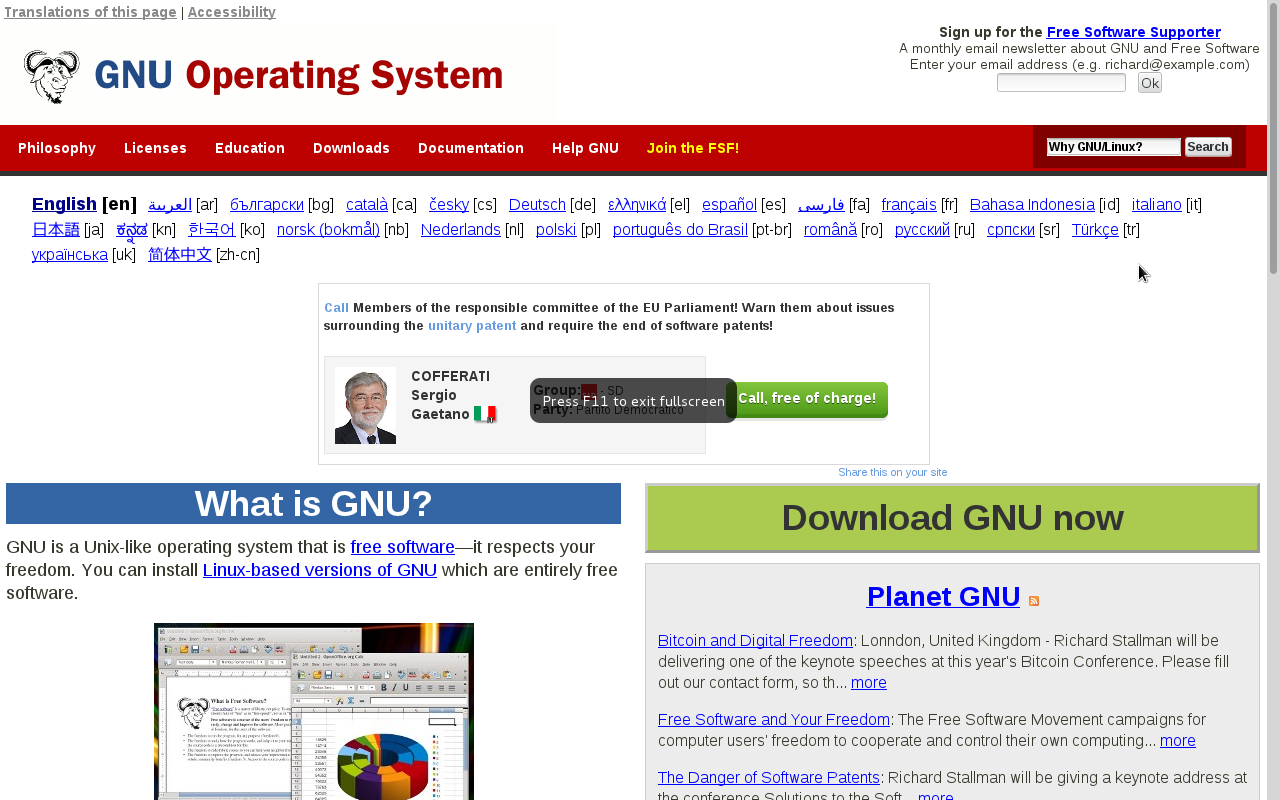 Unit testing and code coverage
This is not sexy, but I think it's really important. For a long time our test coverage was really poor. And when I say really poor, I mean completely non-existent. Some time ago we started to add a few tests here and there, but starting in this cycle we have taken this a lot more seriously and our test coverage has grown by leaps and bounds. We have unit tests for most major classes, they are executed automatically during distcheck (so you won't release if you broke something), and lately we have added support for the code coverage infrastructure that is now available in gnome-common (thanks Philip!). As I write these lines our coverage is around 40%, which is not great but is a massive improvement considering where we were 6 months ago. These tests have helped us to catch a bunch of bugs (some really obscure and older than some good wines), prevented lots of regressions, and helped us to do some hairy refactorings with the confidence that we wouldn't break absolutely everything.
I think these three things (having unit tests, running them automatically before release, measuring your progress with code coverage) are very important, so I'm writing another post that just focuses on how to do this for a typical GNOME project.
Other bits and pieces
As usual there are lots of additional features and bugfixes, too numerous to mention: automatic session recovery, tab-less mode, Do Not Track, using SoupTLD to make the URL completion smarter (so it can automatically figure out that google.com is a URL, but foo.bar is a string you want to search), and many more.
Onwards GNOME 3.8
But the show must go on, and Igalians never sleep. We are already working towards the next major release: in 6 months we expect to graduate the WebKit2 version of Web out of Beta status (deprecating the classic WebKit version) and land the next iteration of the overview as major new features. But those are just the known knowns, the unknown unknowns is where it's at. Until then, happy hacking.