Today I hosted an Ubuntu Open Week session on social networking in Ubuntu 11.10.  I decided to convert my notes from the session into a blog post, enjoy!
Ubuntu includes a social networking desktop service, Gwibber. Gwibber isn't new to Ubuntu, it has been included for quite a while now. The intent isn't just to provide a twitter or facebook client, but it is to provide a means for you to interact with your favorite social networks.
Gwibber does include a client application that aggregates the social networking sites you love to use, into one convenient place as well as allow you to post to multiple accounts simultaneously.
For 11.10, the Gwibber client received a complete face lift, in fact a complete re-write. The previous version had many great features, but ended up being quite limiting when we wanted to improve the overall user experience.
With the new Gwibber client, there aren't really many new "features" however it is important to note not all previous features made it in. The most notable missing feature is the multi-column view, we'll work hard to make sure it returns in Gwibber 3.4 in Ubuntu 12.04.
Now lets talk a bit about other ways you can use your favorite social networking services from Ubuntu.
Ubuntu Integration
Messaging Menu
Displays unseen counts
Update Status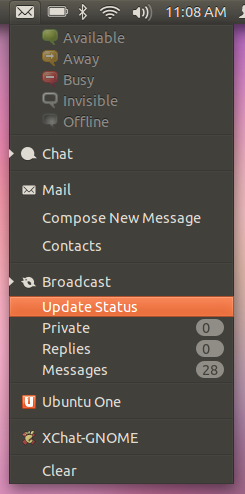 Unity Launcher
Displays total unseen count
Quick menus for:

Update Status
Refresh
Accounts
Preferences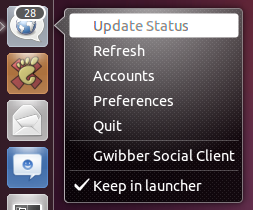 Update Status Poster
Quick way to update your status without needing to have the Gwibber client running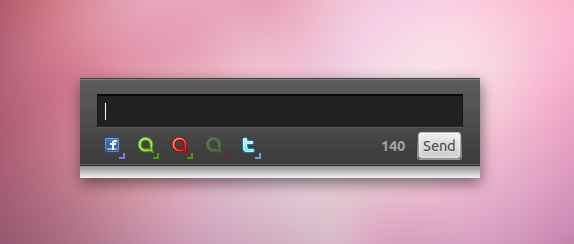 Unity Lens
Display all posts including videos, photos, links, replies, etc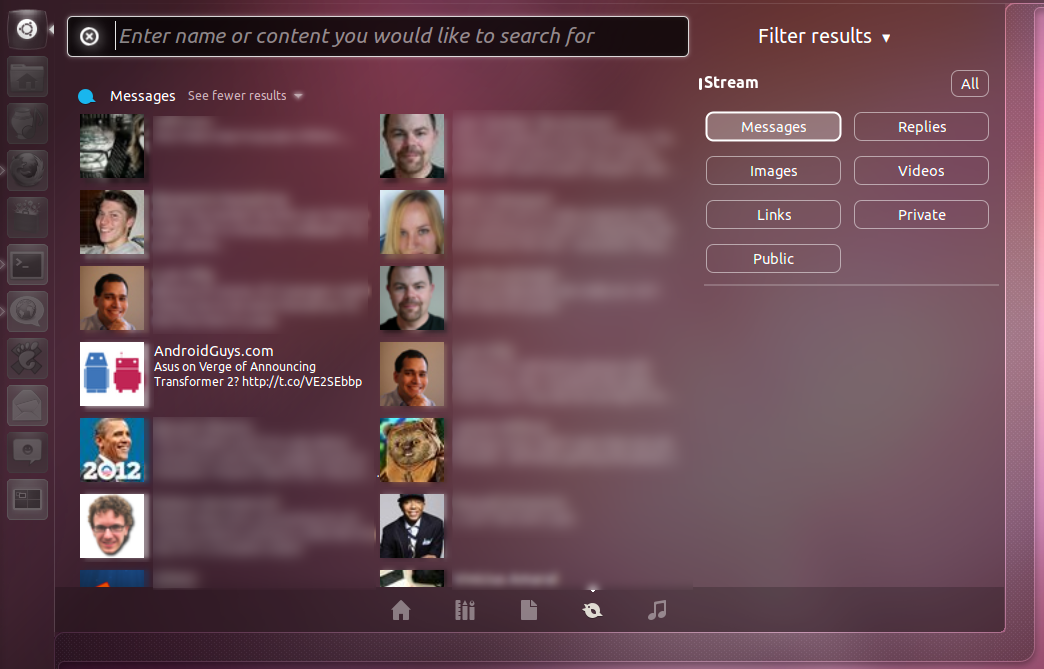 Search and filter results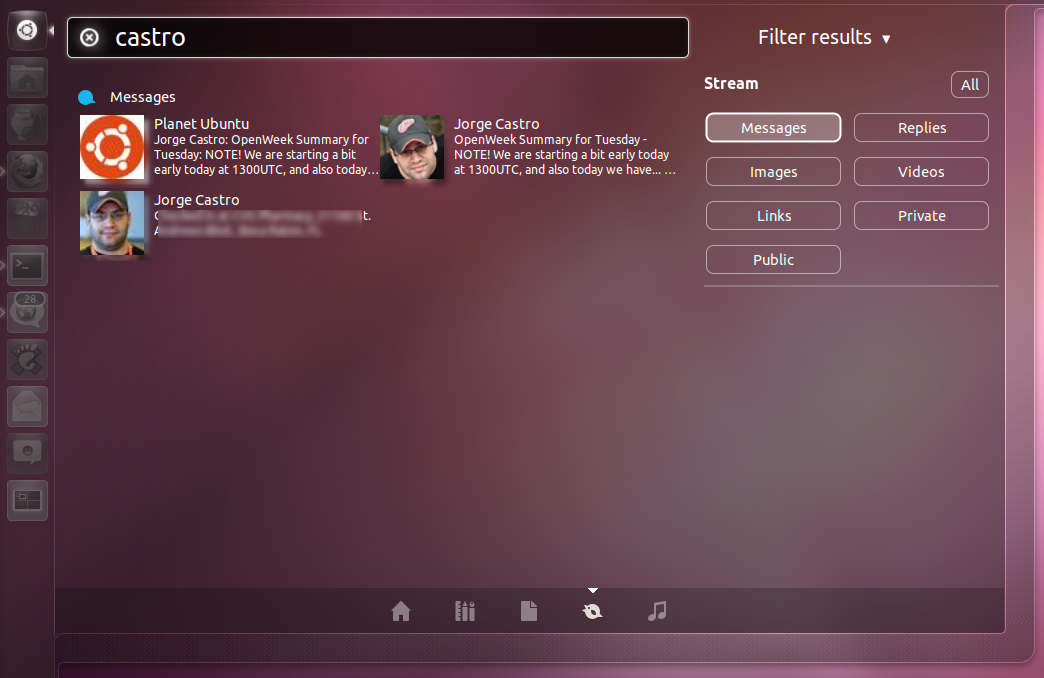 Note: the lens isn't included in the default install, you need to install unity-lens-gwibber

or "sudo apt-get install unity-lens-gwibber"
Plans for Gwibber 3.4 (Ubuntu 12.04)
Multi-column view
Google +
Live search (filters)
Performance improvements

further reduce memory usage
speed up startup time

Improved account management
In-line viewing of more content (Videos, Images)
Photo/Video uploads
Smooth scrolling
User guide
Lens: improve filter selection (including filter by accounts) and categorization
Lens: clicking on a tile should raise the client and view the post
GNOME Shell integration, we would love someone to help improve the experience in GNOME Shell.
Do you want to help?
We need developers, designers, bug triage and documentation writers. For example we have a great user guide the Vancouver loco wrote, however it needs to be updated to match the current version of Gwibber and converted to a format we can include in the help viewer. We also want a new logo and some design help figuring out how Google + circles can best fit into Gwibber.
If you are interested in helping in any way, please join us in #gwibber on Freenode.