Dutch referendum
As expected, the Netherlands (or, rather, the people) rejected the proposed constitution for Europe. The interesting thing comes next: what caused this, and who will get dumped for it?
Why? Because nobody agrees. Thing is, every large organization and political party was in favour of this thing. Every one of them, left- to right-wing, conservative or progressive, government or opposition. This is a PR-disaster as you barely ever get to see. So, as always in politics, they all have their own fancy littly reasons on why it failed and how their political programme is going to solve everything, and here's where the old fun just continues as ever:
The right-wing capitalist VVD, as spoken for by former leader Bolkestein, thinks people got too confused with the increased political power of the EU, and the EU should go back to being an economical cooperative union.
The left-wing socialist parties PvdA and Groen-Links all think it's because Europe lost touch with its people, and we need new love to get back together.
Right-wing radical splinter party Groep Wilders, who was campaigning against the proposed constitution, claims this all shows everyone is sick of the current political parties and we need a new political system.
Our Harry Potter-like prime minister Balkenende at least got one thing right: we're not against Europe. Seriously, I love it. I can go to Germany (GUADEC) without requiring a single bordercheck or currency exchange. I love you, Europe. Just not that way.
So all in all, it doesn't really get us anywhere. But at least the proposed constitution is definitely off now.
GUADEC (in hindsight)
Looking back, GUADEC was awesome. First of all, the talks were mostly excellent and the demos were breathtaking. So you think Linux (GNOME, that is) on the desktop can't keep up with Windows or Mac OS X? Wait until you see what we make for you right now. We all know Owen Taylor's fancy Window-manager Luminocity, but imagine a slap-stick-like introduced dry brittish Xgl demo next. "Oh, wait, I can turn my desktop as a cube, too."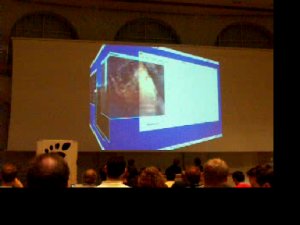 "WHOA!"
Robert Love's talk on performance was enlightening while still being understandable (thank you!), and Jeff Waugh totally surprised me with his Topaz peptalk. Glynn Foster's as our GNOME muse was a worthy last talk for the event.
The evenings were mostly spent in the beautiful Schlosseplaze, which is basically Stuttgart's town square with a nice set of resturants and bars around it. Monday night was spent enjoying Novell-paid beer (wooh!).
While there, I decided to work on a silly smallish bug in gnome-settings-daemon (keybindings) related to ALSA and how it handles mute. Also talked with Bastien Nocera on what to do next with Totem (it's nice; but never perfect) and got some good ideas on where to go next, and tried to poke Colin Walters back into Rhythmbox (which may have succeeded), and many other discussions with many others, not without thanks to the monday-night party.
Finally, let's not forget the fact that we had a huge attendance from NL compared to any other year (10-15 in total). Long live GNOME-NL!