First, a short introduction to how this all came about. Lately, I've been interested in iPhone applications. The one thing that Apple did really well (after some initial crack) is to deliver a SDK and ecosystem to extend the iPhone with all the crap that you could come up with. Most of them are games, I don't really play games, but some of them are quite useful.
For example, consider that with minimal effort, you could write applications to make your iPhone act as:
a USB data stick
a remote control for tv, audio or computer
a notepad
This all comes in addition to basic features that all already exist:
calendar
portable e-mail
SMS, IM, social networks
Suddenly the very thought of carrying 20 items with you to office every day feels really tragic. Don't get me started about all these devices that are lingering around at home in the living room. How many remote controls do you have? You can probably imagine that I would love the Blackberry a lot, too.
For my studies, I use PowerPoint. A lot. Imagine my excitement when I found that several applications existed to use your iPhone as a remote control for PowerPoint, such as iClickr and iPresenter. Both failed in the usability department, especially when compared to Apple's Keynote iPhone Remote application, and therefore I decided that I would have to write my own. I present you: iPhone PowerPoint Remote (more screenshots available by clicking the link).
swipe and tap your finger to switch between slides
drag your finger to show an on-screen (in your actually running slideshow) arrow pointer
hold-and-drag your finger to make colored annotations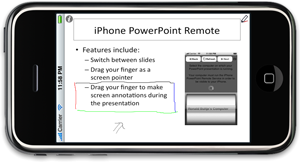 The application is available in the Apple iTunes store, and requires a small piece of software to run on your host Mac, available here.