FSCONS
November 14, 2013
8:23 pm
Uncategorized
I had a fantastic time this past weekend at FSCONS, which is a conference dedicated to free society in Sweden. It was really energizing to be around so many freedom-focused people, and it's a part of the world where I haven't spent much time (I'd never been to Sweden before, but I confess I did spend too many weeks reviewing documents in Stavanger, Norway when I was a law firm lawyer).
Below you can see a picture of my keynote, as taken by Albin Olsson, and licensed under the Creative Commons Attribution-Share Alike 3.0 Unported license (incidentally, it also appears that Albin updated my picture and added a swedish translation on Wikipedia!)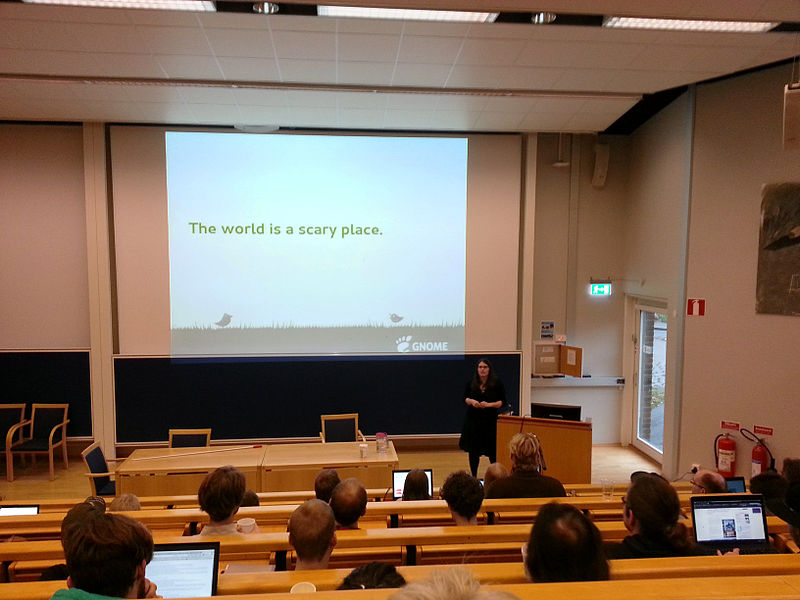 My talk was entitled "Proactivism" and it explored how important it is for everyone in our community to be focused on being an activist for ethical technology and to proactively evaluate ways that we can improve. As examples, I talked about GNOME's accessibility campaign, our privacy campaign and OPW, focusing on OPW to spread the word. I hope that I have another opportunity to give this talk in the future with other examples. I asked the audience to confess, and I would say about 80% of them had used Skype in the last two months. At another conference this may not have surprised me as much, but the vast majority also raised their hands that they were GNOME 3 users. It was great to talk to so many people who were really happy with it!
I enjoyed the other talks I went to too, and learned quite a bit. Of course, a major highlight of the conference for me was hanging out with the local GNOMEees: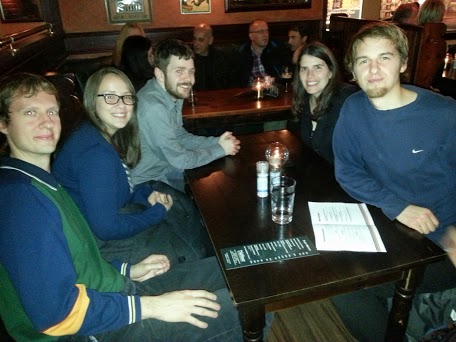 And I loved checking out Gothenburg. I was very impressed by how many local free software and free culture people live there. I know the local GNOME team is working hard on putting together a GUADEC 2015 bid (we extended the deadline as apparently two years is way too long in advance to be able to properly plan a conference) and I wish them luck!