May 28, 2016
conferences, oreilly, speaking
No Comments
Last week was OSCON 2016, and the first year that the conference was held in Austin, Texas. OSCON has always been an important conference for Conservancy and for me personally. In 2011, it was the first conference I ever keynoted (I was also on a keynote panel in 2008, which was the closest I'd gotten before then), and where I really started talking about my heart condition and medical devices. OSCON was also the conference where we had the first Conservancy booth and debuted Conservancy t-shirts and stickers.
Austin seems to really suit OSCON. The feel of the conference was comparable to Portland, but there seemed to be a lot of new local participation resulting in a much more diverse conference. I met a lot of great people for whom it was their first time at the conference and made a lot of good connections. Conferences, and OSCON in particular, are always short on time and often I was in a dead run from one thing to the next.
I participated in two sessions on Thursday. One was a talk I gave on employment agreements. I outlined basic issues to look for in signing an employment agreement but my main point was that employment agreements can often be negotiated. Companies have standard contracts that they use for all employees, but in many areas they may be prepared to edit the agreement as part of an onboarding negotiation. After you receive your offer, but before you sign the employment agreement, you are likely to have more power in the relationship than you will again. The company has expended resources in recruiting and interviewing you, and has come to the decision that you're the best person for the job. Just as you negotiate your salary and other important terms of employment, some of the contractual provisions are also likely to be flexible. I've seen a lot of agreements over the years, and every time I've talked to someone about this issue they've been able to get *some* change.
Because of this, and because it's so hard to know what to ask for if you're not a lawyer like me, Conservancy is working on a project of standard employment agreement provisions that could be worth asking for. If many prospective employees ask for this, some companies may start to give this as a perk to attract top talent.
The second session was a panel about free and open software foundations. Moderated by Deb Bryant, the panel discussed issues around foundation formation, fiscal sponsorship and revenue models. I was really excited that multiple people in the session recommended Conservancy as a nonprofit home, and also encouraged audience members to become Supporters of Conservancy! There are a lot of great organizations in free and open source software and it was so interesting to see how many roles the panelists serve in them.
Conservancy had a booth, so I spent most of the rest of the time there. It was great to be in one of the nonprofit areas with so many other awesome nonprofits in our field. It was also the first time we had multiple stickers, including the very first Outreachy stickers.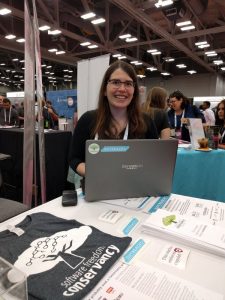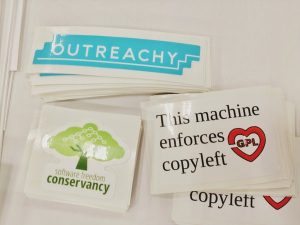 I was also able to catch a panel on patents that Bradley was a part of, eloquently reminding everyone how deeply problematic software patents are.
Lastly, it was great to meet with other Outreachy organizers! We don't have a chance to meet in person very often and we always have so much to discuss.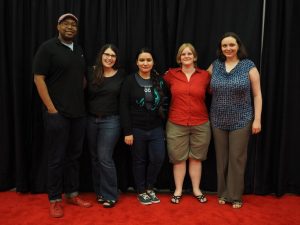 After the conference ended on Thursday, we had a chance to relax and talk about the conference with Conservancy Supporters at our pool party. I'm always struck by how impressive our Supporters are. While walking around the party, I caught conversations about the future of free software, copyleft, enforcement, patents, conferences and even one where we recruited someone great to apply for the GNOME Executive Director job! I was so excited by the enthusiasm of our Supporters. Aside from the financial aspect, which is critical for us, with such a small staff it would otherwise be impossible to do all of our work and tell people about it without their help. While it's taken me all week to recover from the conference and try to catch up on the backlog of work that piled up, I feel reinvigorated and recharged!