FISL16
July 14, 2015
2:32 pm
Uncategorized
I'm back from Brazil where I attended FISL. I had the honor of presenting three talks! And they were three of my favorite topics: the importance of compliance and the suit against VMware, bringing more women to free and open source software and why I care so much about software freedom in the first place. It was a very fun conference. Besides doing the talks I was able to do a few press interviews too. And of course I loved meeting Brazilian hackers and software freedom activists.
Attendees seemed very interested in enforcement and the VMware suit. I was happy to see support for this work, and there was discussion about local copyright holders signing up to the coalition. It really seems that folks are starting to see the downsides of noncopylefted projects and are frustrated by the pervasiveness of GPL violations.
One of my favorite moments of the conference was the response to my talk about gender diversity. I admit that it's disappointing that this talk is always attended disporportionately by women. As I sometimes say in the talk itself, it doesn't make a lot of sense for the burden of this work to fall only on women. There are so few women right now in free software (1-11% at most) that it would be impossible for us to do it on any meaningful scale alone. Plus it's not fair to expect women to undertake this work on top of their other contributions to free software (many women understandably don't want to think about gender issues at all). Men can make a tremendous impact on this area. Most of our Outreachy mentors are men, and as the dominant group in free and open surce software, it's men who can fundamentally change the culture to be more welcoming to women and other underrepresented groups. Nonetheless, it was amazing that the "mob" after my talk was mostly women. It was great to meet so many women who are leaders in Latin America and to hear about their extraordinary work. I was interviewed after the talk and was askd to give some tips for women getting started in free software.
The conference had a very different feel to it than a lot of the other conferences I attend. It was a community run conference (along with that awesome community feeling, a lot of students, etc.) but it's such a big conference that it has some things that community conferences often don't have. Like GNU and Tux mascots (thanks to Deb Nicholson for the photo)!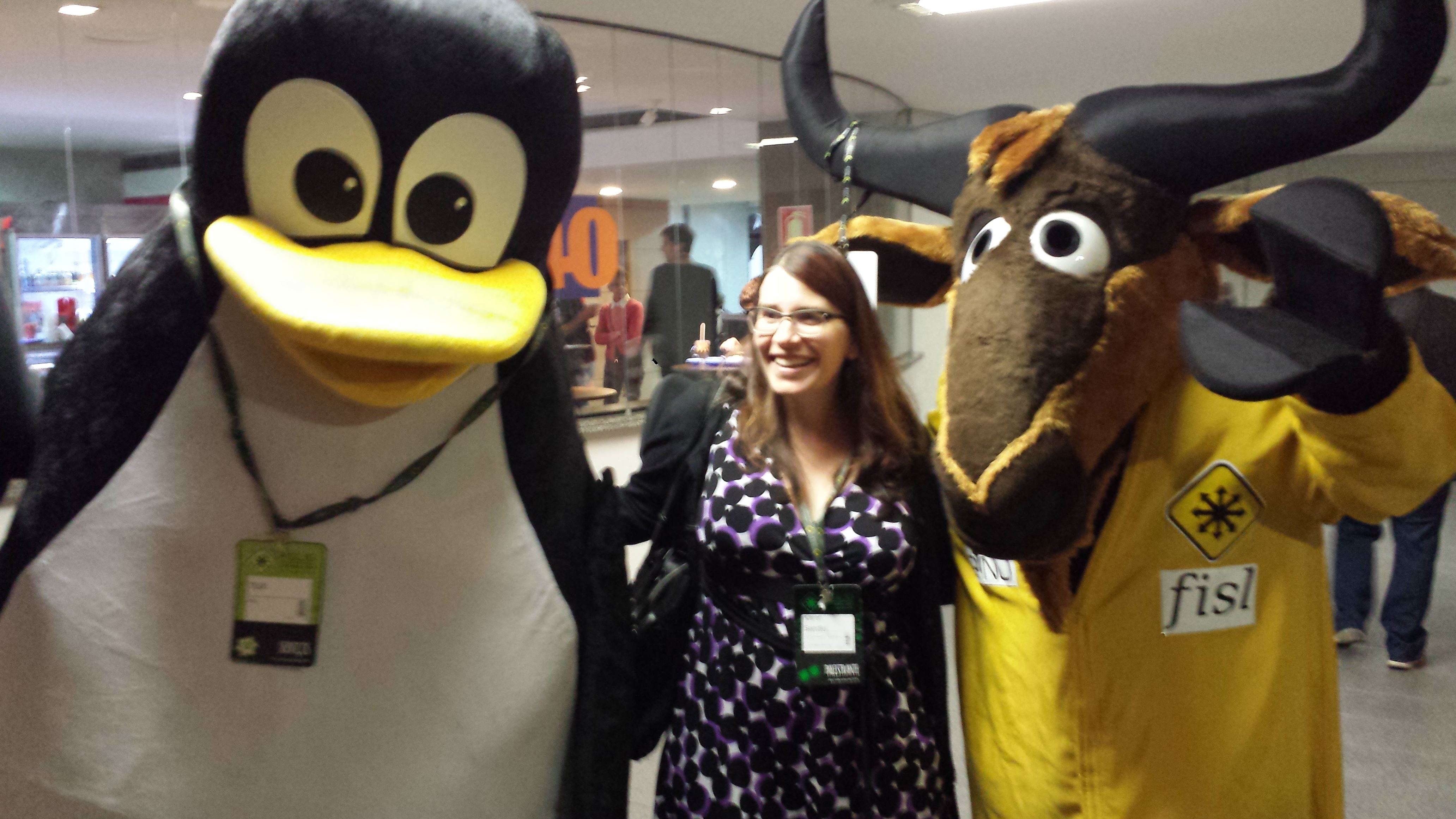 I loved seeing schoolkids excited to be there and quite a number of really little kids with GNU and Freedo shirts and toys.
There was also a lot of love for GNOME, and it was great to meet up with people I don't get to see very often, especially since I'm missing GUADEC this year. Plus we got to settle some outstanding Linux kernel/systemd issues.
FISL is an excellect conference – a wonderful alternative to the corporate trade association conference ciruit. I hope to be able to return some time in the future. Now to get ready for OSCON next week…