What's your bug-fixing attitude? asks
Mikkel,
Raphaël,
Davyd,
Behdad,
Dobey and
Callum today.
For me, it's fix bugs first, fix fingers later.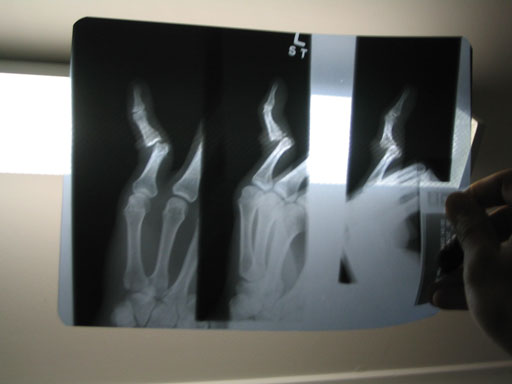 Ah, I jest. That was an (Australian) football accident from a couple of years ago. My buddy Wes has taken some much nicer pictures: Volumes
1,
2,
3,
4,
5,
6 and
7.
Oh, and in other news, Deskbar 2.14.1 was published. I said that I'd manage the maintenance releases, but I was slack and Raphaël ended up shouldering the burden. And hypocritically, I didn't code any of the patches, so really my attitude should be listed as meh. 🙁 But I just wanted an excuse to share that photo.
Which reminds me… I've been sitting on some superswitcher stuff for quite a while that I should really push out.