Take an unofficial anthem.
Chuck out the boring chords and revise history with some 7ths, since they have more Star Power. Shorten it for fashionable attention spans.
Plug a guitar into a cheap 'n' nasty laptop sound card, and play like your mother (country) just died. If you are an ordinary guitarist and need 30 takes, then play like your entire extended family just died.
Listen (mp3 or ogg, about 1MB large and exactly 1 minute long), or read the score (PDF for printing, or PNG image for imagining, or Lilypond source for the hard-core). Everything's CC-SA licensed.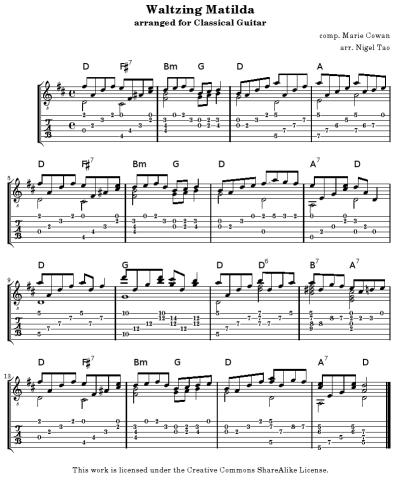 On another note (haha), it's been a year-ish since my first post (I'd link to it, but it's crap). All up, 37 posts and 6,600 words, with a three month hiatus in the middle. In comparison, my buddy Wes has just squeezed out his 100th blog post since starting 10 months ago. I think the man has found his calling. There are some choice quotes there, bro.
Update (2006-10-23): For search engines' sake, I really should mention the words Waltzing Matilda, tablature (not just chords) and arranged for classical guitar.