This happened.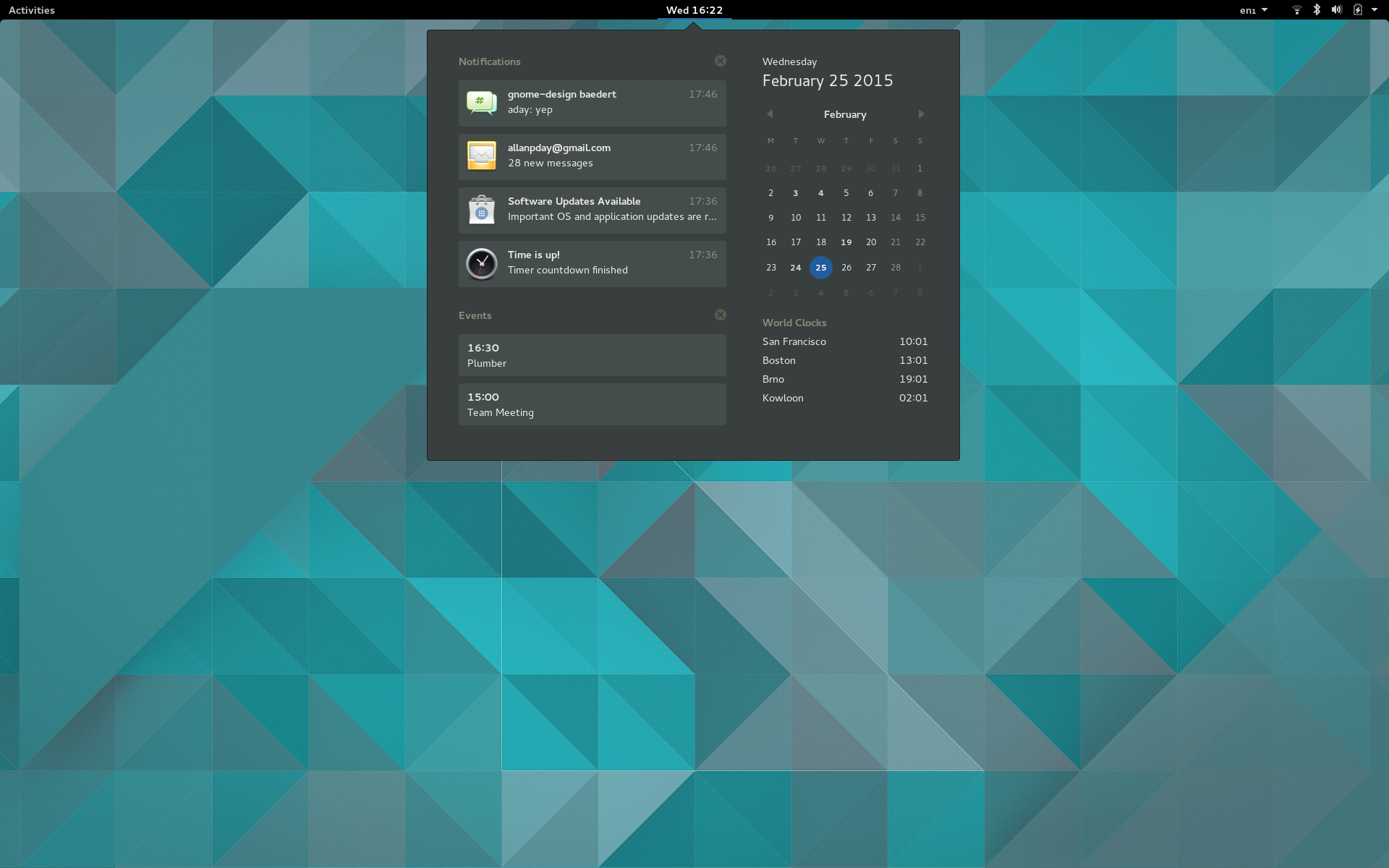 It was a big job, and Florian deserves major congratulations for getting it ready (just!) in time.
Credit also needs to go to Jon McCann. If you've read my previous posts on the notifications redesign, you'll know that we've gone through a number of different design concepts. In the end, it was Jon who was instrumental in helping us to identify the best approach. He has an amazing clarity of vision, which proved crucial in helping us to give the design a solid conceptual foundation.
The various concepts we have explored as a part of the notifications redesign makes me confident that the approach we have settled on is the right one. It was only with the final design that everything clicked into place, and we were left with a design which effectively avoided the problems found in each of the others.
In the rest of this post, I'll outline the design's key features.
"What's happening?"
One of the key goals for the notifications redesign was to provide an effective way to review previous notifications. In this way, notifications can be used to find out about what has happened in the past, as well as what is happening right now.
With this ability, notifications can be used in an exploratory manner, to get an overview of recent events. This is particularly useful as a way to inform decisions about what to do next. As such, notifications can be a tool for directing our own personal activity.
This recognition informs the new calendar and notifications design. It indicates that notifications have an affinity with other activity-related information – at the moment we ask "what's happening?", we are also often implicitly asking, "what should I be doing?"
The new calendar design aims to answer that question in the most effective way possible. It provides a single place where you can find out what has happened, what is happening, and what is about to happen. In concrete terms, this means showing notifications, event and birthday reminders, world clocks and weather information. Notifications take centre stage, while the other information is available for you to fortuitously stumble upon.
All this information is contained in a single view, which means that it is immediately accessible and gives an effective overview.
It's a time machine
Since they tell us about what has happened in the past, and help us decide what to do in the future, notifications are closely related to time. In accordance with this framing, the new design makes notifications accessible through the time and day indicator in the top bar [1]. All the other information found in the new date and time menu also relates to time – event reminders, birthdays, world times, and the calendar.
The world times section of the date and time menu works through integration with the GNOME Clocks application.
Taking action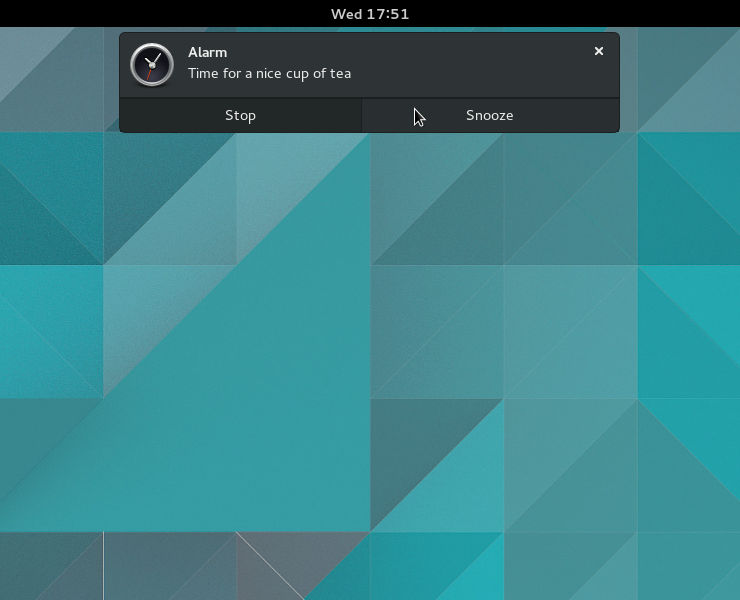 Just like the current GNOME 3 notifications design, the new design incorporates pop up banners that include notification actions. These enable you to quickly respond to a notification in a convenient manner. Built in chat replies have been retained.
The position and appearance of banners has changed though – they now appear towards the top of the screen. This gives them a close relationship with the date and time menu. It also helps to ensure that pop up banners don't get in the way, which was an issue when banners where at the bottom of the screen.
Keeping it simple
A major goal for the notifications redesign has been to simplify as much as possible. There's quite a bit of complexity to notifications right now, including different notification types (such as resident and transient notifications), special cases (like music and hot plug notifications), notification properties (including images, action buttons), as well as stacking of notifications within different sources.
This complexity comes at a cost, increasing both the number of bugs and the maintenance burden. With the new design, we are clearing the decks and trying to stick to a single, simple API for virtually all notifications. This will lead to a much lower bug count, as well as easier maintenance.
Plans for the future
The main thing that has still to land for 3.16 is status icon support. We're still finalising our plans for this, but it will definitely happen, and I'm sure that it will be better than what was in 3.14.
Looking forward to 3.18, there are a number of elements to the design that didn't make it for 3.16, including music controls (probably based on MPRIS), Weather integration and birthday reminders. These additional elements will make the new design increasingly useful and cohesive, so there is a lot to look forward to. If you want to work on any of these features, just get in touch.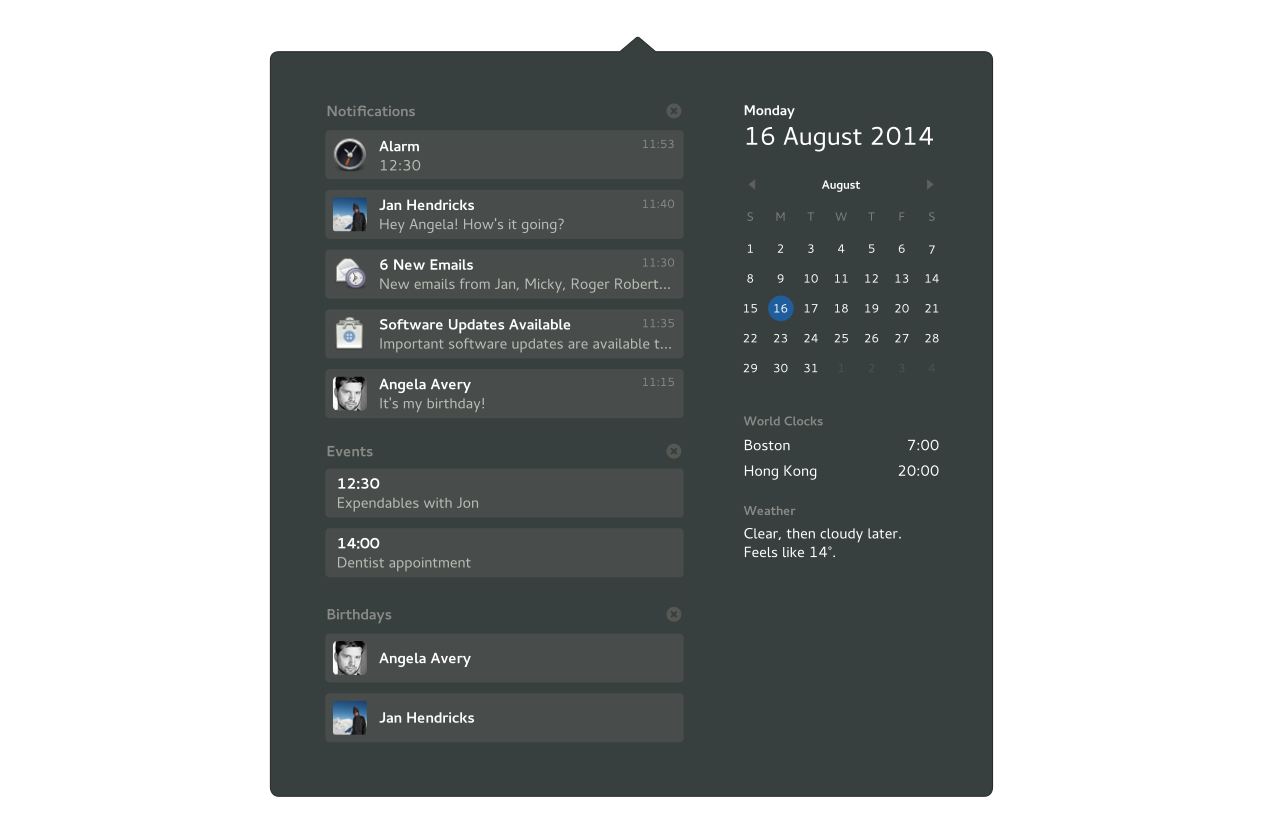 How you can help
The new notifications and calender design landed late in the development cycle, which makes testing vital. If you want to help, the best thing you can do is use GNOME Shell master, and report any bugs that you find.
This is also a good moment to pay attention to the actual notifications themselves. There's a lot of poor notification usage out there right now [2], as well as obvious examples of things that should have notifications and don't (completed downloads, anyone?).
If you are responsible for a module or application, take a moment to read over the notifications guidelines, and take a second to check if there are any untapped opportunities for effective notification usage in your software.
The new notifications design will be released next month, as a part of GNOME 3.16. If you want more details about the design or future plans, check out the design page.
[1] This also has some practical advantages, such as communicating that notifications are provided by the system, clearly delineating each section of the top bar, and providing an effective click-target.
[2] Things to look out for: notifications not being dismissed when they are replaced by a new one, application notifications that don't use the application's icon, default actions that don't raise the sender application, notification actions that duplicate the default action ("View" or "Open" buttons are a warning sign of this), notifications being shown by applications while you are using them.