Like a lot of people, I was really happy with the big notification redesign that landed in 3.16. However, I've been itching to return to notifications for a little while, in order to improve what we have there. Prompted by some conversations we had during the Core Apps Hackfest last month, I finally got around to spending a bit of time on this.
One of the main goals for this is to focus the UI – to improve the signal to noise ratio, by refining and focusing the interface. This can be seen in the new mockups that have been posted for the shell's calendar drop down – the number of extraneous visual elements is dramatically reduced, making it much easier to pick out interesting information.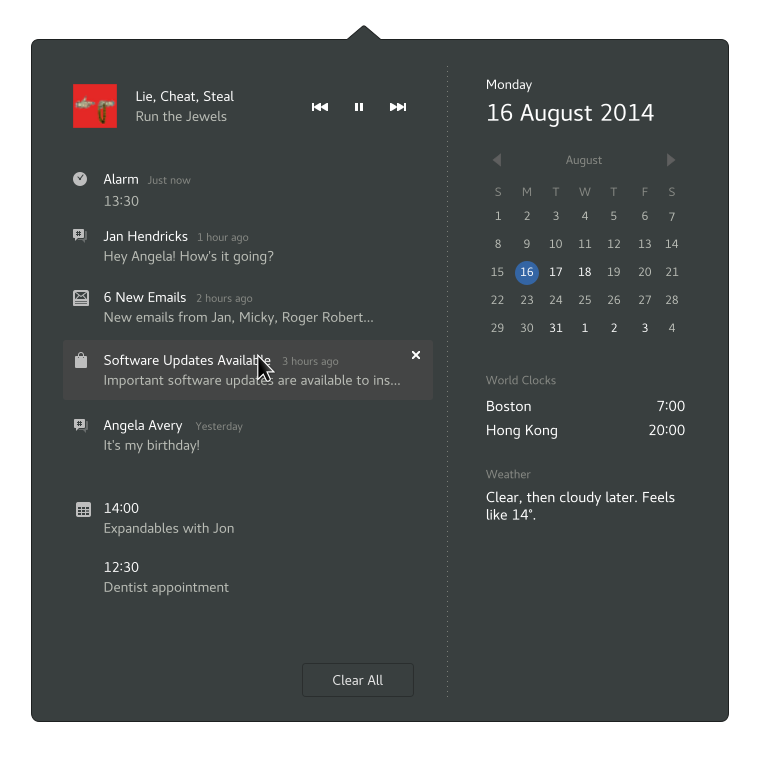 The other aspect of my recent work on notifications is to improve the quality of the notifications themselves. Notification for events that aren't of interest, or which stick around for longer than necessary, can undermine the entire notifications experience.
This is why, aside from updating the shell's UI for presenting notifications, the other aspect of this effort is to ensure that applications are using notifications effectively. This includes making sure that applications:
Only show notifications that are actually interesting to the user.
Revoke notifications once they have outlived their usefulness.
Give every notification a useful title and body text.
I've recently reviewed a bunch of GNOME applications to ensure that they are using notifications correctly, and have created a wiki page to track the issues that I found.
If you spot any GNOME applications not using notifications effectively, it would be great if you could help by filing bugs and add them to the wiki page. Likewise, if you work on an application that uses notifications, make sure to check that you're following the guidelines. It would be really great if GNOME could achieve across the board improvements in this area for the next release!