This is Part 2 of a series on what's wrong with the free desktop app ecosystem and how we can fix it, based on the talk Jordan Petridis and I gave at LAS 2019 in Barcelona.
In Part 1 we looked at all the different elements making up a platform, and found that there is only one "complete" platform in the free software desktop world at the moment. This is because desktops control the developer platforms, while packaging and system integration is managed by separate communities, the distributions, for historical reasons. This additional layer of middlemen is a key reason why we don't have real platforms.
Power to the Makers
The problems outlined in Part 1 are of course not new, and people have been working on solutions to them for a long time. Some of these solutions have really started to come together over the last few years, empowering the people making the software to distribute it directly to the people using it.
Thanks to the work of many amazing people in our community you can now develop an app in GNOME Builder, submit it to Flathub, get it reviewed, and have it available for people to install right away. Once it's on there you can also update it on a schedule you control. No more waiting 6 months for the next distribution release!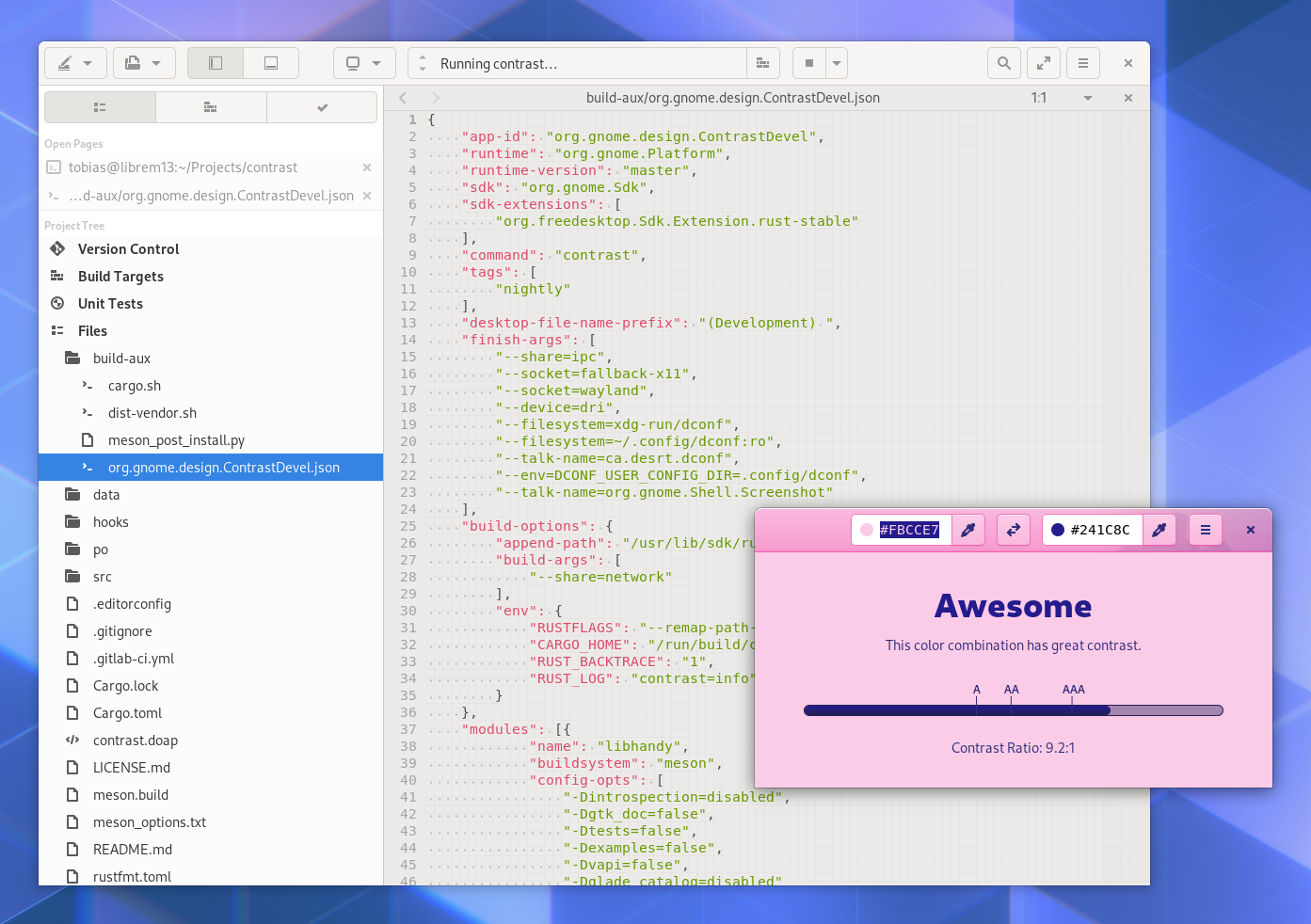 But though this is all very awesome, Flatpak is unfortunately not a complete solution to the platform conundrum discussed earlier in this series.
Flatpak is Not Enough
Flatpak does solve a number of the issues around app distribution very elegantly, because app developers do their own packaging, and control their release schedule. It's also a unified package format that works across different host systems, and the Flatpak runtimes are clearly defined development targets to do QA against.
But that doesn't magically fix all our problems. The two elephants in the room are
The Host still matters: Flatpak only solves part of the issues with distro packaged apps
Downstream drama: Flatpak does not address the conflicts between desktops and distributions
1. The Host Still Matters
Even with Flatpak there are still some unpredictable variables on the host system which affect app developers. On the technical side a number of things can go wrong, from an outdated Flatpak version (which can mean some Portals apps rely on may be missing), to missing/incompatible system APIs such as password storage, calendar, or address book.
These things can lead to applications not working properly, or at all. For example, this is why new versions of GNOME Contacts cannot access any contacts on Debian 10, why recent GNOME Calendar cannot access any calendars on Ubuntu 18.04, or why Fractal doesn't remember your password across restarts on some non-GNOME environments.
There are also user-facing integration points where applications interface with the system. These include things like notifications, the application menu, search providers, the old systray, and the design patterns used in individual apps.
For example, when the system UI or design guidelines change, applications follow the platform and change their UI accordingly. This means if you install newer apps on an older system, there are going to be weird edge cases. For example, if you install new apps on Debian 10 you get a confusing mix of the old and new application menu paradigms because the design guidelines were changed with GNOME 3.32 (early 2019).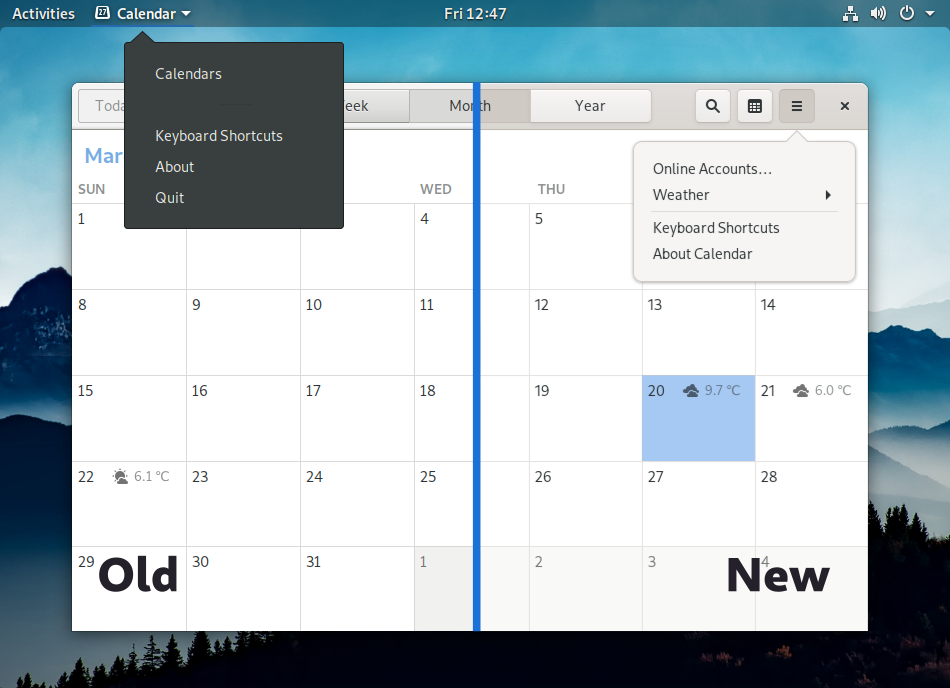 Flatpak also applies the host GTK stylesheet and icon set to apps. This means that if the host distribution overrides the system stylesheet, Flatpak will happily apply random, never-tested CSS to every app. Obviously this leads to lots of issues, ranging from ugly but relatively harmless glitches to real usability issues, such as illegible text on buttons. For more background on this particular issue, see this blog post.
Some of these issues could be fixed with more standardization, changes to Flatpak, or new portals. However, fundamentally, in order to be a real platform you need a clearly defined environment to develop and test for. Flatpak alone is not enough to achieve that.
Just like "write once, run everywhere" is always an illusion, it's never going to be possible to completely split apps from the OS. You always need app developers to do some extra work to support different environments, and currently every distribution represents yet another extra environment to support.
2. Downstream Drama
Flatpak does not completely solve the issues app developers face in shipping their software, because these can not be isolated from the ones desktop developers face. In order to fix the app developer story we need real platforms. In order to get those we need to resolve the desktop/distribution dilemma.
The issues here roughly match the ones with traditional distribution packaging mentioned in Part 1, and can be grouped into three broad categories:
Structural issues inherent to having distributions and desktops be separate projects.
Fragmentation issues because we have multiple of everything so there's duplication and/or bad abstraction layers.
Configuration issues, primarily around settings and other defaults, which have to be set at the distribution level but affect the user experience.
Structural Issues
One of the biggest structural issues is distribution release schedules not being aligned with the upstream one (or between different distributions). GNOME releases every 6 months, but distributions can take anywhere from a few weeks to several years to ship these releases.
This category also includes distributions overriding upstream decisions around system UX, as well as theming/branding issues, due to problematic downstream incentives. This means there is no clear platform visual identity developers can target.
For example, Ubuntu 18.04 (the current LTS) ships with GNOME 3.28 (from March 2018), includes significant changes to system UX and APIs (e.g. Unity-style dock, desktop icons, systray extension), and ships a branded stylesheet that breaks even in core applications.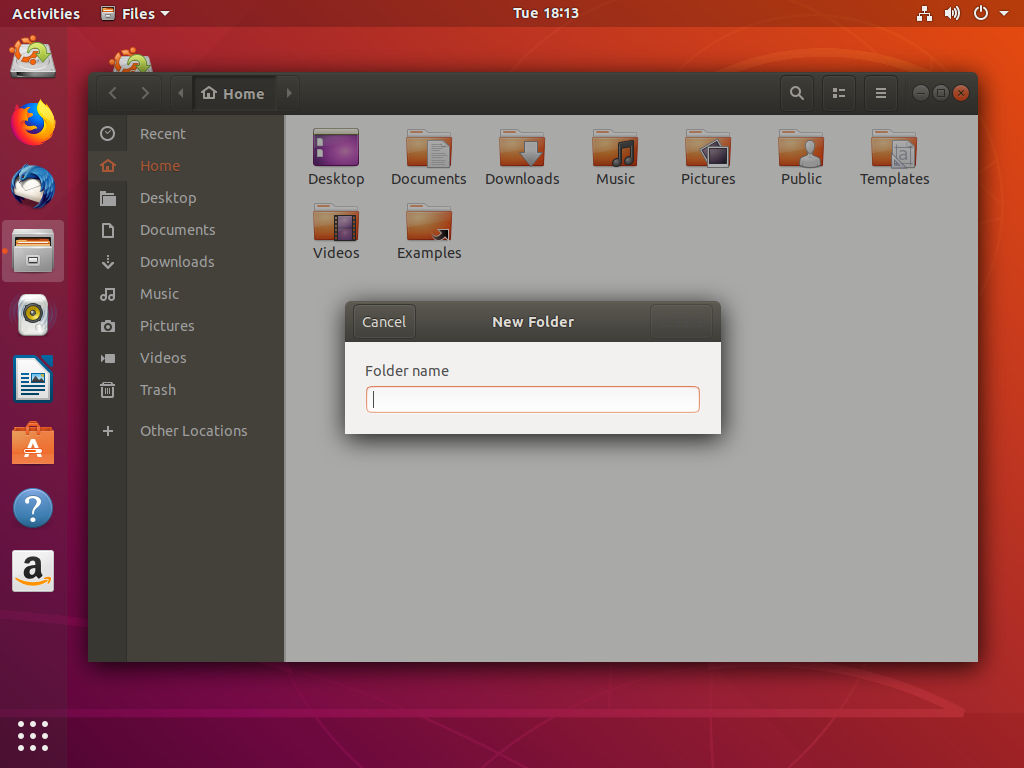 Fragmentation Issues
Having multiple implementations of everything means we either need do tons of duplicate work, or try to abstract over the different implementations.
On one end of the spectrum there are OS installers: There is no GNOME installer, so every distribution builds their own. Unfortunately, most of these installers are not very good, and don't integrate well with the rest of the desktop experience (e.g. they use different design patterns than the OS itself). This can be either due to a lack of resources (e.g. not every downstream has their own GNOME designers), or because different distributions have specific downstream goals and motivations (e.g. Fedora and RHEL share an installer, which introduces lots of complexity).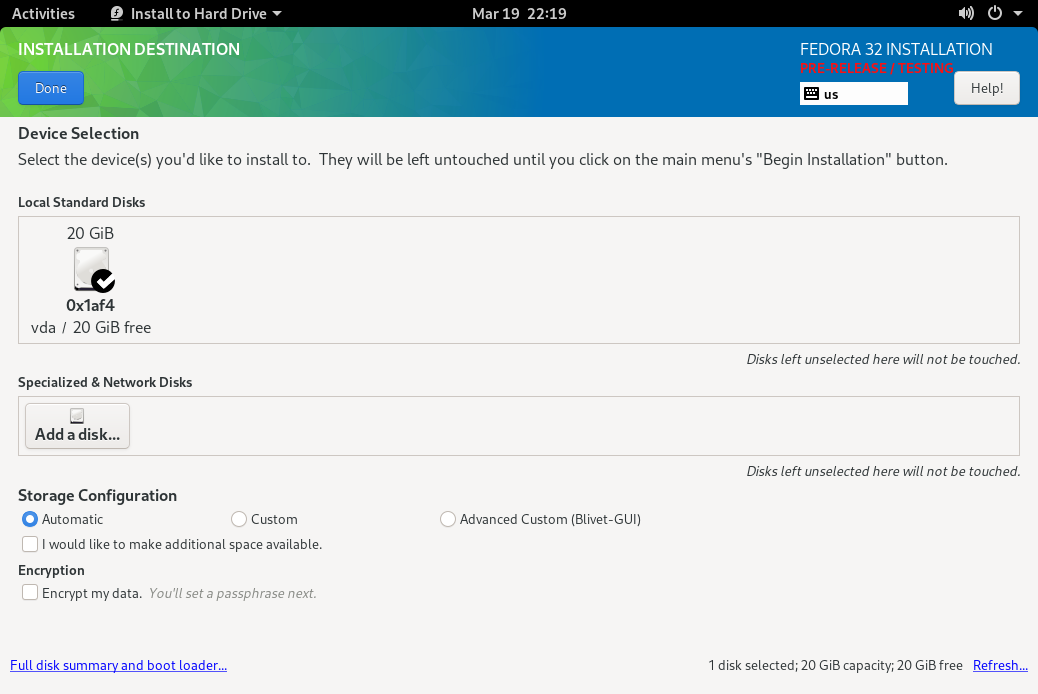 In other areas we have the opposite problem, because we're trying to abstract over the fragmentation with a single component. For example, PackageKit is meant to abstract over different package formats, but in practice it only works for a handful of them, and even for those it's often buggy. The PackageKit maintainers have officially given up on this approach.
Configuration Issues
This includes the default apps, the fonts shipped with the system by default, the terminal shell and prompt, and the UX around things like Plymouth. All of these things are usually configured at the distribution level and are therefore often not great, because these choices need to be made in concert with the rest of the platform UX.
Forging Platforms
Given the constraint of there being multiple different desktops projects and technology stacks (and the host still mattering), we'll never have a single "Linux" or "FreeDesktop" platform. We could have one platform per desktop though.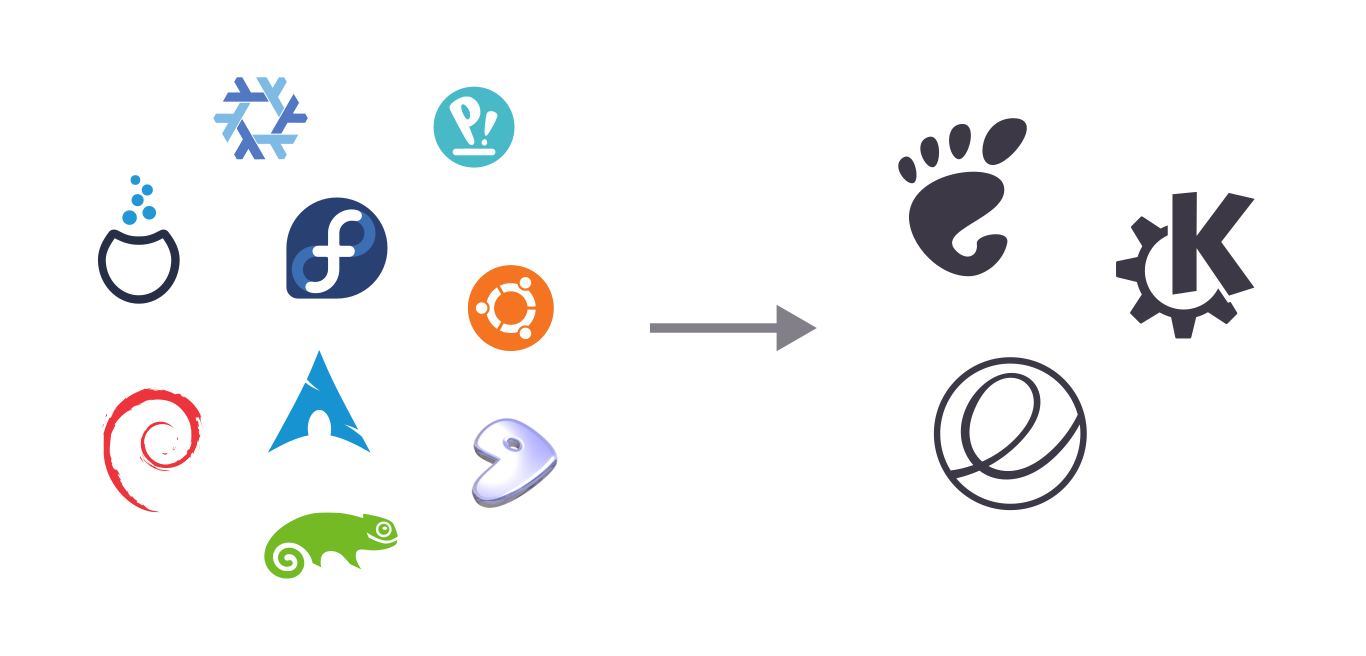 From an app developer point of view, testing for GNOME, KDE, and elementary isn't as nice as testing only for a single platform, but it's not impossible. However, testing for Debian, Fedora, multiple Ubuntu releases, OpenSUSE, Arch, Endless, and dozens more is not and never will be feasible, even with Flatpak. Multiple different distributions, even ones that ship the same desktop environment, don't add up to a platform. But exactly that is what we need, one way or another.
The question is, how do we get there?
The Nuclear Option
When we look at it from a Flatpak context, the solution seems obvious. Flatpak is solving the middleman problem for app developers by circumventing the distributions and providing a direct channel between developers and end users. What if we could do the same thing for the OS itself?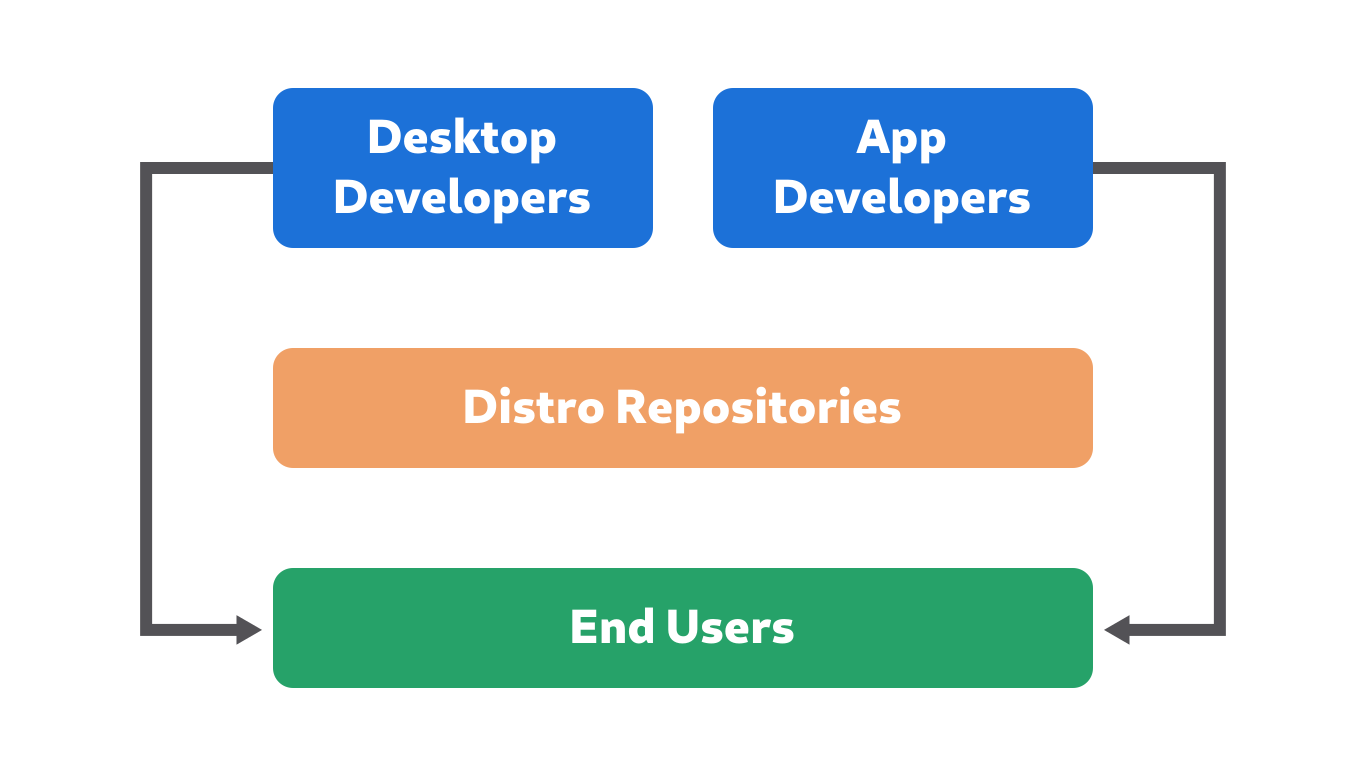 Of course the situation isn't exactly the same, so what would that mean in practice?
With Flatpak runtimes there is no extra "distribution" abstraction layer. There are no Debian or Fedora runtimes, just GNOME and KDE, because those are the technology stacks app developers target.
These runtimes are already more or less full-fledged distributions which are controlled by the desktops, we're just not using them as such. The Freedesktop SDK (which most runtimes are based on) is not based in any distro, but built directly from upstream sources using Buildstream as the build tool, and it already has most of the things you need to make a basic operating system.
There is an early-stage effort to make bootable nightly GNOME OS images for development/testing, built on top of the Freedesktop SDK. From there it wouldn't be a huge leap to actually make an independent, consumer-facing platform OS for GNOME (and KDE, and other platforms).
However, though this is likely to become a very attractive solution in the future, there are a number of hurdles to be overcome:
An OS needs an installer, OS updates, a Plymouth theme, etc. All of these are being worked on for the nightly GNOME OS images, but are not quite there yet.
A "real" OS needs a dedicated group of people doing things like release management, security tracking, and QA. These are being done to some degree for the Flatpak runtimes, but a consumer OS would need more manpower.
It's an OSTree-based immutable system, which means there is no traditional package management. Apps are installed via Flatpak, and server/developer workflows need to happen in containers. Though projects like Silverblue's toolbox have come a long way over the past few years, there's still work to be done before immutable OSes can painlessly replace systems with old-school package managers for all use cases.
It takes time to start a new operating system from scratch, especially when it's using cutting-edge technology. So while things like GNOME OS could be amazing in the longer-term future, it's likely going to take a few more years before this becomes a viable alternative.
Squaring the Circle
What could we do within the constraints of the technology, ecosystem, and communities we have today, then? If we can't go around distributions with a platform OS, the only alternative is to meld the distributions into a meta platform OS.
Technically there's nothing stopping a group of separate distributions from acting more or less like a unified platform OS together. It would require extraordinary discipline and compromise on all sides (admittedly not things our communities are usually known for), but given how important it is that we fix this problem, it's at least worth thinking about.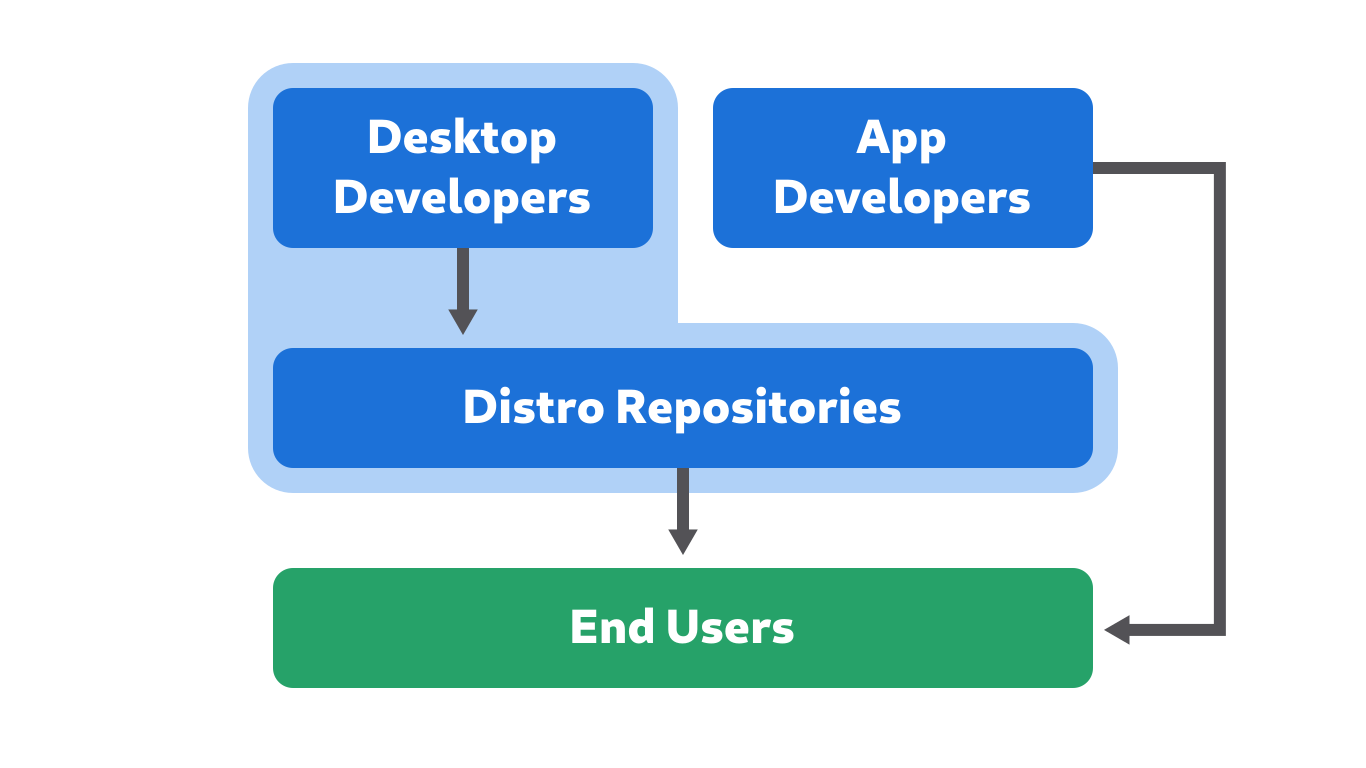 To get an idea what this could look like in practice, let's think through some of the specific issues mentioned earlier:
Release Schedule: This is probably among the thorniest issues since release cycles vary wildly in length and structure, and changing them is very difficult. It's not unimaginable that at least some progress could be made here though. For example, GNOME could have long term support releases every 2-3 years for "stable" distributions like RHEL and Ubuntu LTS. Distributions could then agree to either be on the regular 6 month schedule, or the 2 year "LTS" schedule. Alternatively, all distributions could find a single compromise schedule that can work for everyone (e.g. maybe one release per year, like mobile operating systems do).
Theming/Branding: Some distributions want ways to customize the OS experience such that their system looks recognizably different from others. This is not necessarily a problem, as long as this is done using APIs that are supported and intended to be used in this way (which unfortunately is currently not happening in many cases).
Creating more branding opportunities which do not break APIs which apps rely upon (especially third party apps shipped via Flatpak), is certainly possible and there have been discussions in this direction (e.g. GTK accent colors). Whether distributions would limit themselves to these APIs once they exist is of course an open question, but at least there is a ongoing dialog about this.
System UX/API Changes: Some distributions make significant changes to the core system, which fragments the visual identity of the platform at best, and severely damages the app ecosystem at worst. This includes things like adding a permanent dock, icons on the desktop, re-enabling the systray, or a "dark mode" setting which just changes the system stylesheet from under apps.
The solution here is simple in theory: If you think a change to the system UX is needed to fix a specific problem, don't just patch it downstream, but instead help to address the actual underlying issue (We already touched on this in Part 1). For example, if you find that new users are confused by the empty desktop at startup, don't just ship an extension that completely breaks the structure of the shell. Bring the problem to the upstream designers and developers, figure out a solution together, and help implement it upstream.
In practice it's not always that easy, but a lot can be done by simply adopting an upstream-first UX mindset. It can take a while to get used to, especially for companies with more, uh, "traditional" internal processes, but it's definitely possible seeing as it's working well for Red Hat and Purism, for example.
OS Installer: It may not be doable to have a single code base, but we could definitely share at least the design (and possibly some UI code) for the installers used across distributions. A cross-distribution initiative for nice, native GNOME installers across the major distributions would probably not be easy logistically, but is not unimaginable.
Software Installation & Updates: GNOME Software and PackageKit's "abstract across distros" strategy has clearly failed, and we need a new approach here. For applications there is a relatively easy solution: Distributions stop packaging apps, and work together on a common repository of developer-submitted Flatpaks (e.g. something like Flathub). We'd need to work out how this common solution can accommodate various distribution policies around e.g. proprietary software, but this seems very doable and most of it already exists in Flathub.
The resources currently going into repackaging every app for every distribution could be pooled to review the apps submitted by developers to the common Flatpak repository.
Seeing as most distributions are not (yet) image-based like e.g. Silverblue or Endless, we would still also need a way to update the packages that make up the core system. For this there's probably no way around backend duplication.
System Default Configuration: Making progress in this area is likely not too difficult comparatively. The main thing we'd need is better coordination between the various parties needed to synchronize these things better (which is of course easier said than done). Having some kind of common forum where the upstream design and release team, as well as people in charge of major distributions can discuss and standardize defaults across the entire ecosystem might work for that.
The Bottom Line
If we want a future with real platforms we can either go around the distributions or have them all work together (or potentially both), but one way or another we need to vertically integrate.
Neither path is straightforward or easy, and there's a huge amount of work ahead either way. However, the first and most important step is acknowledging that this problem exists, and that we need to radically change our approach if we're serious about building attractive app ecosystems.
The good news is that many people across different projects are already working towards enabling this future. We hope that you'll join us.
Happy hacking :)