Me and my computer have been attending the Docs/DevX hackfest happening in Cambridge, England between Sunday the 25th january and Thursday the 29th january.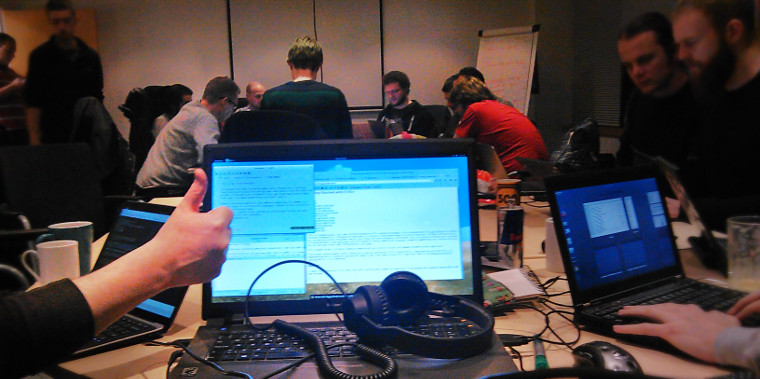 As you might see in the picture above, we are all seated in a cozy conference room at the Collabora office. I'm sitting with a whole bunch of people from the #docs team being a busy bee.
Tuesday whereabouts
Shobha (curiousDTU) has been doing some review of the documentation for GNOME's games.
Ekaterina (kittykat) and Shaun (shaunm) have been discussing how new contributors could be attracted to the documentation team. Furthermore they have also discussed Mallard and how the future could look for it.
Ekaterina has also been fixing application documentation bugs here and there in the vast collection of GNOME's.
Peter (pmkovar) successfully converted the translated release video subtitles from *.po and back to *.srt. This means that the GNOME 3.14 release video is now available in 14 different languages! A big thanks goes to the translation team for translating them.
Jana (jsvarova) got a public GNOME blog and carried on fixing bugs from the cue that were in scope for this hackfest.
I myself have been focusing on rewriting the Getting started with GTK+ tutorial and learning how to make applications with GTK 3 along the way. My patch is currently undergoing review. Furthermore the GNOME Platform demos has gotten an overhaul – which also is something that currently is going under review. Once the patches land, new developers should hopefully have a better experience which is more up-to-date with how we currently recommend making applications with GTK 3.
Hackfest overall
I am writing this blogpost while I'm on my way back to Denmark. The hackfest has been a great experience in many ways. First, it is great to meet with fellow GNOME contributors face-to-face. This hackfest has also been a big learning experience for me in terms of Git, Mallard, GTK3 and C. I have gained knowledge much more rapidly because I have had great people right next to me, ready to answer any questions of mine (+whisky) and review my (initially poorly written) patches. Thanks everyone!
Once I get home I will probably have a few more patches to submit. Afterwards, it is time to work on planning the GNOME 3.16 release video again. I would definitely love to work further with the developer experience again in the future. And I would definitely attend another GNOME hackfest.