The Birds of a feather sessions at GUADEC was a great opportunity to sit down and get work done. I participated in the engagement team's BoF which involved lots of brainstorming for GNOME's 20th birthday. Over the two days we delegated all the different tasks to do and planned what should be done up to and doing the event. Together with Sri I'll be working on merchandise for the event which among other things could involve beer mugs.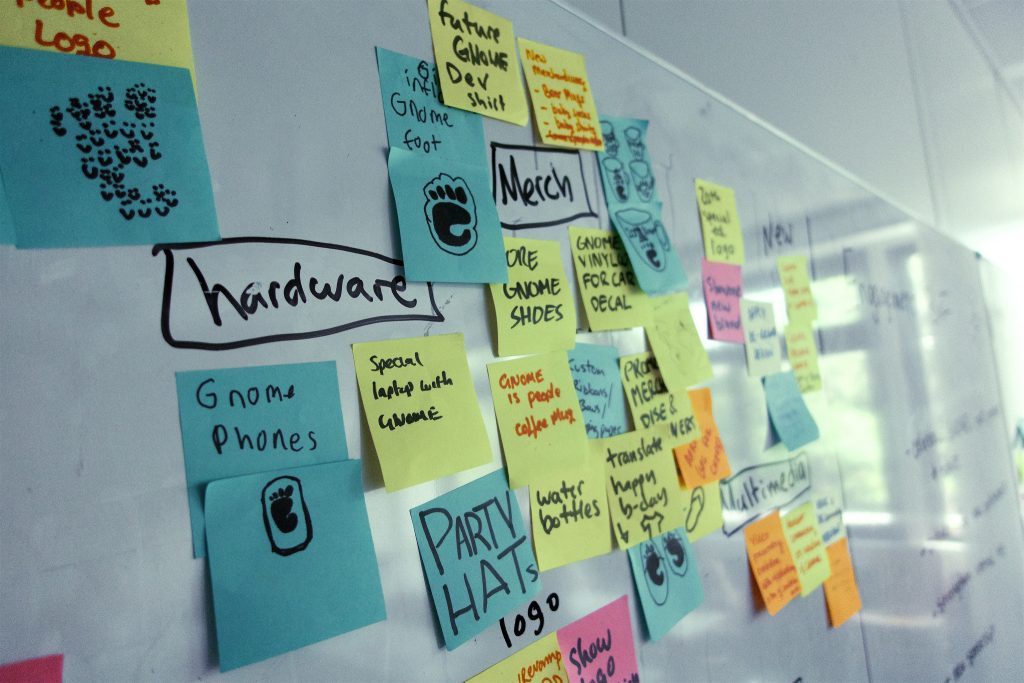 The engagement team brainstorm in the form of sticky notes and whiteboard doodles. Picture by Jakub Steiner (CC-BY 2.0).
The BoF days were also spent on Polari work. Florian has had lots of code restructuring patches waiting for review. Hopefully they will enable us to land exciting features such as automatic nickserv authentication support soon. A couple of fixes has also landed which might make bouncer users happy.
I spoke with Philip Chimento about GJS and what could be interesting stuff to work on there. There are patches for having GJS snippets in Builder. I'm also hoping to someday see GJS documentation integrated with developer.gnome.org. I couldn't attend the GJS BoF itself but heard there was lots of interest in it so I'm looking forward to follow any developments here!
On the last BoF day there was an Ambassadors BoF. We are a lot of open source groups around the world and several also have people from the GNOME community involved in them. We discussed how we could distribute marketing materials and how the engagement team could help the GNOME groups around the world. Personally I'd love to see free and open source groups connect more and share their experiences and knowledge. Another suggestion which came up was to make easily transportable newcomer packages which could contain things like stickers, pin buttons and balloons.
I met both old and new faces and GUADEC this year. Now I'm home, batteries once again loaded over the top with energy. Thanks to GNOME Foundation for sponsoring my travel and stay!