I'm having the opportunity to once again go to GUADEC. I've had many great discussions, There's so many great people to meet here.
Core Day 1: Friday
On the first core day I held a talk with Carlos about the newcomer initiative. Carlos has been involved for three years while I myself have been involved since around fall last year. Newcomers is a rebrand of GNOME Love and aims to be a clear step-by-step guide aiming to get developers introduced to GNOME development. Currently building relies on Jhbuild but im hoping for an even brighter future. Flatpak and GNOME Nightly SDK have the potential to make building gnome applications completely distribution agnostic. Should Nightly not build one day, we can also in large amount of cases fall back to an older version of nightly from a day or two before without this being a problem for the newcomer. If I made you curious you can watch the talk here.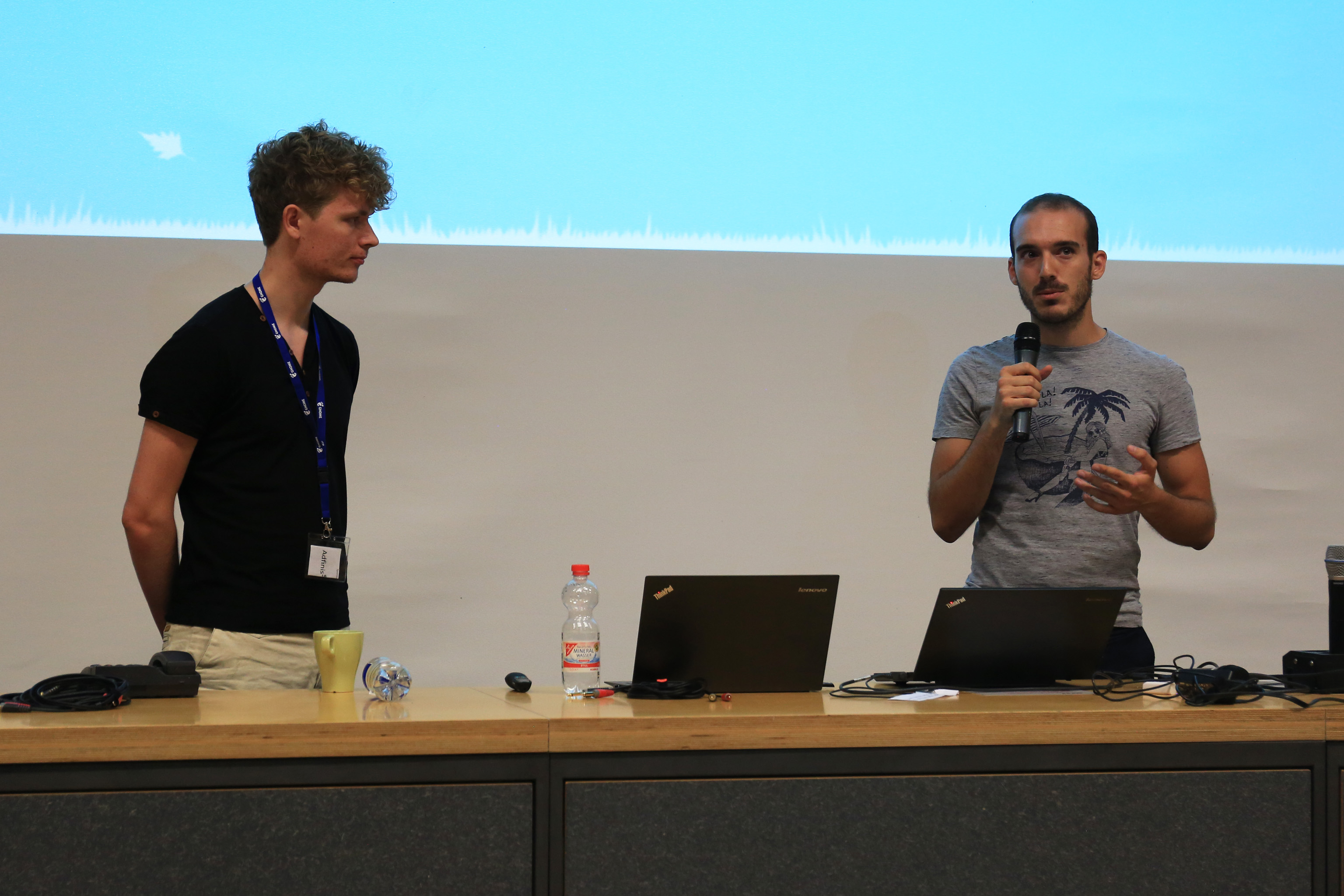 Me and Carlos giving the newcomers talk. Picture by Bin Li (CC-NC-SA 2.0)
During the evening there was a nice picnic in the evening with GNOME Games, good watermelon and great fun.
Core Day 2 Saturday
Saturday went with attending talks. To mention a few I attended there is Emmanuelle's GTK: Are we in the future yet? and GNOME Music: State of the union. In the afternoon I also participated in the AGM where me and Carlos gave a brief review of the year working on the newcomer intiative.
Core Day 3 Sunday
On the third day I held a lighting talk about GUADEC's streaming artwork. I spoke about the difference between SVG and HTML coordinate systems when applying transformations and how you can script and animate transformations using python and CCC's intro-outro generator.
During the conference I had the opportunity to talk with many contributors. One of the items which I had on my list of interst was the GNOME developer center and what is going to happen there. I was also approached on the topic of which applications could be suitable for the newcomer guide once they get a nice wiki page and newcomer bugs filed against them.
As volunteer for GUADEC I had the chance to work on a lot of artwork. I made streaming artwork for the talk recordings. I also got requested to make artwork for the unconference slots.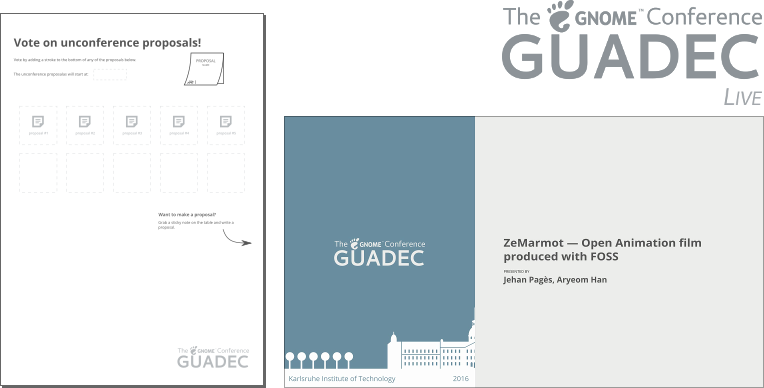 For this year's GUADEC T-shirts I created a conference-specific design and a generic design like last year. The conference-specific design was opted for and can be seen below: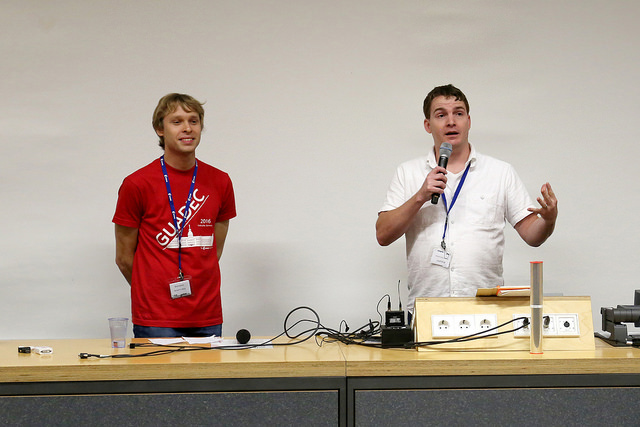 The red edition of the GUADEC 2016 T-shirt worn by one Benjamin Berg from the local GUADEC team. Picture by Bin Li (CC-NC-SA 2.0)
Big hugs to GNOME Foundation for sponsoring my travel and accomodation. This thanks also goes out to all you donors who enable GNOME Foundation to sponsor contributors like me and events like GUADEC. Stay tuned for a blog post on the BoF days.