Polari 3.17.4 is around the corner. For this release, I have worked with Florian to get my work towards a better initial setup experience merged. As can be seen below the design has changed a bit too.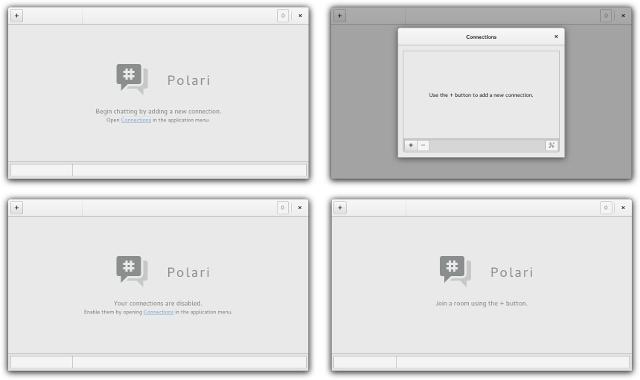 The primary change has been to move away from the installer (anti-)pattern and instead move fully towards a design inspired by the empty-app-states pattern.

In Polari 3.17.4 Florian also fixed a memory bug and a bug with direct messages not showing up until you press the notification in GNOME Shell.
In this digest I also want to briefly mention two more patches I have been working on which likely will land in later releases of Polari:
SSL Encryption: When you create a new connection Polari will now try to determine if the server supports SSL and use it unless otherwise specified.
Server Entry Validation: When adding a new connection, Polari will validate the server name and display a message if you use characters that are not valid in a server address.
Will I meet you at GUADEC this year? (: