After spending some time mostly focused on polishing and delivering GNOME 3.6, we're already at the point again where the new development cycle is starting to take off.
GNOME 3.7.1 will be out later today. It is the first early development snapshot in the 3.7 cycle, so don't expect too much yet. Our plans for this cycle are beginning to take shape here. While smoke testing 3.7.1, I managed to capture a few small glimpses of new things.
Nautilus is searching recursively again. Search is still being under active development, with more improvements to come. Since search doesn't screen-shoot very well, here is the new file system capacity pie chart: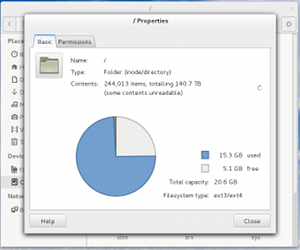 GNOME online accounts has a new provider for OwnCloud. This is not practically useful in 3.7.1, because the OwnCloud support in various applications is not there yet. Expect that to fall into place soon.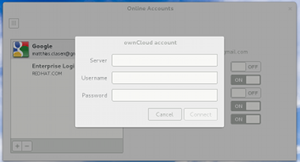 In another corner of the GNOME control-center, the network panel has grown support for the 'Ignore Hosts' field. I'm sure people who have to deal with manual proxy configuration will appreciate that.
As you can see in the device list, the network panel is now showing 'exotic' (from a laptop user perspective) network connections, such as vlans and bonds.