Before Christmas, I wrote about the status of IBus integration and Input Sources in GNOME 3.7. Here is another update to show what has happened since then.
We have added back the option to have a different input source for each window. The GNOME shell overview with its search entry is considered a window in this context.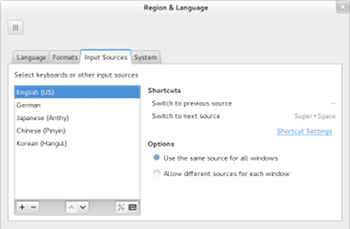 Many people rely on modifier-only keyboard shortcuts such as Alt+Alt or Shift+Caps to switch between input sources. GNOME 3.6 supports this, but we had to 'park' the UI for selecting this shortcut in gnome-tweak-tool, since it came too late to be included in the keyboard panel. This has now been rectified. In GNOME 3.7.4, the modifier-only shortcut can be configured in the Typing section of the keyboard panel.