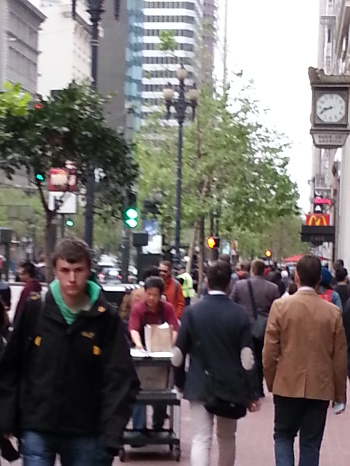 The second day of the hackfest in San Francisco was punctuated by hour-long presentation of the Endless Mobile team about their mission and product. Part of the presentation was done by video stream from Rio.
Around this highlight, the usual small group discussions and hacking continued all day.
I got a demonstration of california from its author.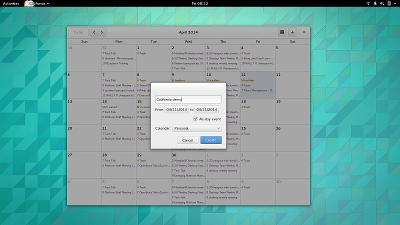 It is still young, but looks very nice already. 'Just enough calendar', was my impression. Since it uses eds underneath, all my stuff shows up right away.
I also had a good exchange with Daniel from elementary about their widget and theming needs.
One of the bigger discussions in the afternoon was about application  development, how to make it easier and remove obstacles. To kick it off, Christian demonstrated his IDE prototype, which looks really nice. The discussion circulated around the expected topics: better documentation, better tools, distribution and revenue, etc. I don't think there were any grand conclusions, but as far as GTK+ is concerned, I think we should do a few things:
Add more topic- or recipe-based documentation. I've made a start on this with my Building Applications talk. Some of the examples that were mentioned include: A preference dialog from scratch, Side-bar best practices.
Get serious about considering glade part of the (wider) GTK+ project. The challenge for 3.14: Have all widgets supported in glade at the day of the release.
Adopt gtkparasite. We've let gtkparasite languish in random forks on github for too long. This is really useful technology, and should be fully integrated into glade and other ides.
Throughout the day, I fixed several GTK+ bugs that were pointed out by Daniel and Jim. I also continued to port applications to  DBus-activatable.