A quick update from the GTK+ hackfest. I don't really want to talk about the versioning discussion, except for two points:
First, I want to apologize to Allison for encouraging her to post about this – I really didn't anticipate the amount of uninformed, unreasonable and hateful reactions that we received.
Second, I want to stress that we just at the beginning of this discussion, we will not make any decisions until after Guadec. Everybody who has opinions on this topic should feel free to give us feedback. We are of course particularly interested in the feedback from parties who will be directly affected by changes in GTK+ versioning, e.g. gstreamer and other dependent libraries.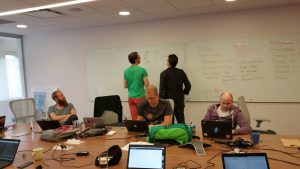 Todays morning discussion was all about portals. Portals are high-level D-Bus apis that will allow sandboxed applications to request access to outside resources, such as files or pictures, or just for showing URIs or launch other applications. We have early implementations of some of these now,  but after the valuable feedback in todays discussion, we will likely make some  changes to it.
An expectation for portals is that there will be a user interaction before an operation is carried out, to keep users in control and let tem cancel requests. The portal UIs will be provided by the desktop session.
We want to have a number of portals implemented during the summer, starting with the most important ones, like file chooser,  'open a uri', application launcher, proxy support, and a few others. The notes from this discussion can be found here.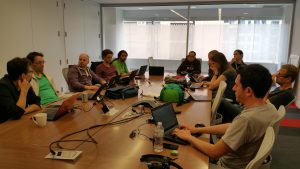 In the afternoon, the discussion moved to developer documentation, how to improve it, let readers provide feedback and suggestions, and integrate them in gnome-builder.
We also discussed ways to make GTK+ better for responsive designs.