The number of GNOME-Platform-based user interfaces (or "Desktop environments" if you prefer) for embedded devices is growing. AFAIK, those are the guys in the field: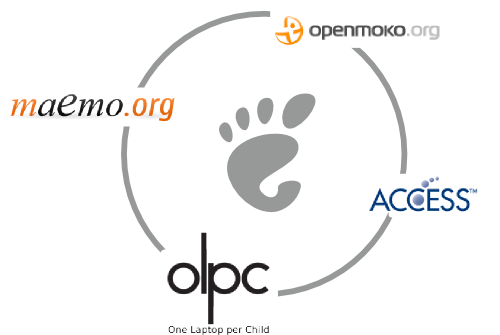 We have different focuses: OLPC (Sugar) on education, ACCESS on PDAs, Maemo (Hildon Desktop) on Internet Tablets and OpenMoko on cellphones. However, I'm sure we have a lot to share and learn with each other in terms of architecture, UI framework, plugin systems, standards, code, ideas, and so forth.
I saw that (probably) there will be some talks related to those projects in GUADEC. This means that we will all be at the same place, at the same time, It's a good oportunity for us to get together and talk! So, what do you think?
Update 1: It seems that some very interesting discussion among OLPC, Maemo and OpenEmbedded guys already took place during Bossa Conference. Good to know we're already talking. :-)
Update 2: Someone commented that I should add LiMo Foundation to the list. Does anyone know if there will be anyone from LiMo at GUADEC?